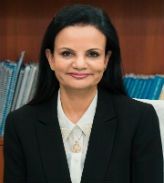 Dr. Geeta Shroff
Dr. Geeta Shroff – Spinal Cord Injury – Stem Cell Treatment
Spinal Cord Injury – Stem Cell Treatment
Director, DGO, MBBS, 30 years of experience, New Delhi, India

Send Enquiry
About Doctor
Dr. Geeta Shroff is a specialist in regenerative medicine with over 15 years experience in stem cell treatment and 30+ years of overall medical practice.She is the Founder & Medical Director of Nutech Mediworld – renowned for its stem cell treatments.
She has vast knowledge and experience of Stem cells & Regenerative medicines, IVF and Embryology. Dr.Geeta Shroff has developed a novel, patented Stem Cell technology, which has been used to treat more than 1500 patients till date.
The technology is patented in 77 countries including Japan, South Korea, Singapore, USA, Australia and New Zealand and is patent pending in several others. Dr.Geeta Shroff has more than 50 publications in peer-reviewed international scientific & medical journals. She is regularly invited to present her research and clinical work at international conferences and workshops.
Specialization
Embryology,
Regenerative Medicine,
Stem cell therapy
Education
MBBS – University College of Medical Sciences, Delhi University, 1986
MS(Ortho) – Safdarjung Hospital, New Delhi, 1991
Post Graduate Certificate – National Institute of Health & Family Welfare, 2000
Experience
DGO, University of Delhi
MBBS, University of Delhi
Location
India
Get Expert Opinion from Dr. Geeta Shroff