CyberKnife Radiosurgery – World's Most Advanced Technology at SafeMedTrip Affiliated World Class Hospitals in India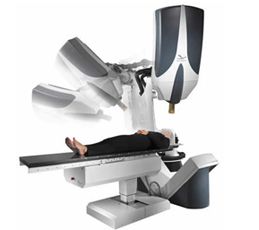 World's Most Advanced Technology to treat tumors with pin-point accuracy and precisely deliver treatment to the tumor alone, sparing surrounding healthy tissue.
A new hope for patients who are inoperable or have surgically complex tumors, or who may be looking for a non-surgical option. Cyberknife radiosurgery is a non –invasive, high-energy radiation treatment that delivers very precise beams of radiation from many angles outside the body. The accuracy of Cyberknife is so precise that radiation can be 'matched' to the shape of small complex tumors, even those located near critical organs. This ability allows Cyberknife to treat many lesions including some considered inoperable or untreatable tumors with surgery.
Request a Call Back