MRI Guided Brain Surgery from Top Hospitals and Leading Specialists in India
Key Advances In Brain Suite Intra-Operative MRI Surgery Suite
Two-room concept enables us to do scan one day before and do detailed planning (in earlier machines, patient would need to come inside OT, compromising sterility) as this is in separate but adjoining room.
Latest MR scanner, enabling high-resolution images in as little as 5 minutes, helping saving time and reducing infection.
Ability to perform a complete range of MRI sequences.
Digital projection of tumor and nerve fibre tracks onto microscope view.
Advanced Pentero microscope with tumor fluorescence capability.Refer a Patient
"MRI Guided Brain Tumor Surgery" In India
The New Generation Technology Now Helps Patients With Complete Tumor Excision Using The Most Advanced Hi Tech Brain Suite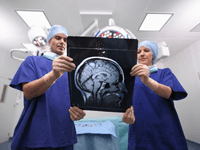 Advanced imaging technique now developed to enable Neurosurgeons with intra-operative MRI to aid in the removal of complex and hard-to-access brain tumors during surgery. This new technique relies on a powerful computer system, which assists the surgeon in precisely localizing a lesion, in planning each step of the procedure on the computer screen, and in calculating the ideal access to the tumour before the operation.
This is particularly useful in reaching a tumour located deep inside the brain, areas traditionally considered to be difficult to reach. During the procedure, the computer tracks instrument movement with an extremely high precision, providing the surgeon with total control inside the brain at all times using "real-time" imaging. The surgeon can also check if the tumor has been removed as planned. This improves the outlook for the patient.
At Our world class hospitals in India we have also begun to use functional image-guidance for patients undergoing stereo-tactic radiosurgery.

Request a Call Back
"BRAIN SUITE" in India – Amongst Very Few Such Facilities WorldWide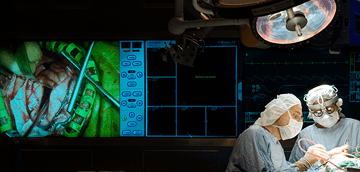 It is the most advanced Neuro-Surgical Operating Room with high field MR. This system permits the neurosurgeon to have an MRI study on the patient during surgery, and if tumor has remained which was hidden to the human eye, can be detected by special MRI sequences, and can be targeted using neuro navigation (which works on the same principle as the GPS system).
The Brain Suite has two main parts. There is a high-intensity MRI scanner integrated with an image-guided surgical system. The MRI scanner has a wide-bore opening allowing a patient to lie on his or her side. Previously, tumors that could only be accessed from the side of the skull were not easy to scan. This special MRI system lets doctors repeat scans during the operation to get more accurate information on the location, shape and size of the tumor. This minimizes problems associated with brain tumors shifting during excision.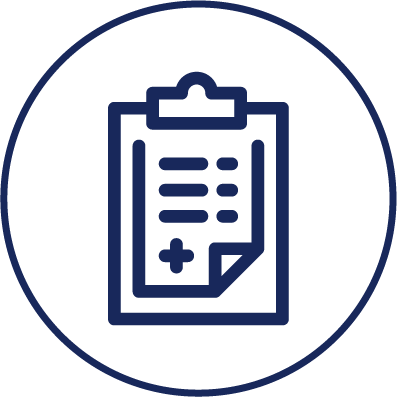 Post a Query
Multi – Disciplinary Treatment Modalities Used for Brain Tumor Treatment in India

Brain Suite – Intra-operative MR Navigation Microsurgery
Endoscopic Minimally Invasive Neurosurgery
Trans-Nasal Endoscopic Removal of brain Tumor through the nose
Stereotactic Radiosurgery
Tumor Embolization using Neuro Interventional RadiologyRefer a Patient
Advantages of Next Generation Technology Over Conventional Neurosurgery to Remove Brain Tumor

Conventional Neurosurgery to remove Brain Tumor
Conventional neurosurgical procedure like conventional craniotomy relies on surgeon's visualization of the tumour. The surgeon has to spend time and significant effort to find the tumor.
In some types of tumours, surgeons may not completely visualize the tumour and there is a risk that surgeon can resect normal brain tissue along with the tumor, which can result in neurologic deficit, paralysis, loss of speech, blindness etc.
Normal brain tissue can be damaged unnecessarily. This can result in neurologic deficit and prolonged stay in the hospital.
A surgeon performs a subtotal removal of the tumor . The consequence is only partial tumor resection that will result in a faster recurrence of the tumor and neurological symptoms.
MRI Guided Brain Tumor Surgery in a Brain Suite, Next Generation Technology
The surgeon is guided during the surgery by live Advanced New Generation computer assisted MRI and thus knows exactly where tumor ends and normal brain begins.
Enhanced ability of Neurosurgeon to excise the complete tumor. Less risk of post operative complications. Functional image guidance with MRI allows for accurate, non-invasive preoperative assessment and planning for brain tumor surgery.
MRI guided Brain Tumor Surgery allows a more complete tumor removal with much less risk to surrounding brain tissue.
"Inoperable" tumors (inoperable by conventional surgical techniques) can be resected with MRI Guided Brain Tumor Surgery. Frequently, these are deep seated-relatively benign tumors in children and young adults or elderly patients. Many of these tumors can be cured with this most advanced technology.
What People say about us- Patient Experience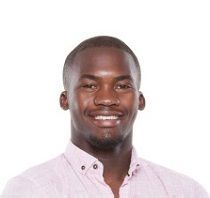 "Much before we arrived in India, we were amazed by prompt and efficient answers given by SafeMedTrip in response to all our questions. We arrived early on Thursday and I was admitted for tests. By Saturday afternoon I was through with the surgery. And the following Friday I was out of the hospital feeling fine and happy, relieved from all the stress.
Cant believe it took just about a week from arrival till recovery. Thank you all and also my surgeon, nurses who cared for me so compassionately even when I was alone in ICU for 2 days and the security guards, everyone. There is not enough space on this page for me to adequately say how much we appreciate all that you have done for us"

Tushanbe Justus From Rwanda – Brain Tumor Surgery
How Can You Get a Free Expert Opinion from Top Medical Specialists in India?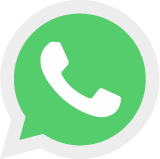 Please Click a picture of your recent medical reports and send to us by WhatsApp, Viber on +91 9899993637 OR

Email to us at [email protected] or [email protected]
Your case would be reviewed by best Specialists in India and an Expert Opinion with Treatment cost Estimate shall be sent to you with in 2 working days.