Prostate Cancer is now the Second Leading Cause of Premature death in Men. Timely Decision for Advanced Treatment can save Your Life.
Prostate Cancer Treatment
---
Most Advanced Minimally Invasive Treatment for Enlarged Prostate and Early Stage Prostate Cancer at World Class Hospitals in India.

An enlarged prostate is a natural by-product of getting older, doctors say. In men, urine flows from the bladder through the urethra. BPH is a benign (noncancerous) enlargement of the prostate that blocks the flow of urine through the urethra. The prostate cells gradually multiply, creating an enlargement that puts pressure on the urethra — the "chute" through which urine and semen exit the body.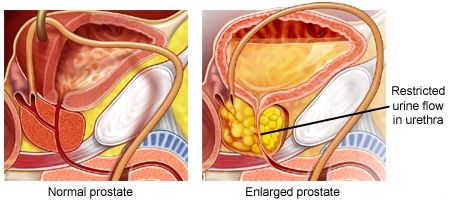 As the urethra narrows, the bladder has to contract more forcefully to push urine through the body.
Over time, the bladder muscle may gradually become stronger, thicker, and overly sensitive; it begins to contract even when it contains small amounts of urine, causing a need to urinate frequently. Eventually, the bladder muscle cannot overcome the effect of the narrowed urethra so urine remains in the bladder and it is not completely emptied.
Why you should choose World Class Hospitals in India for Prostate Cancer Treatment ?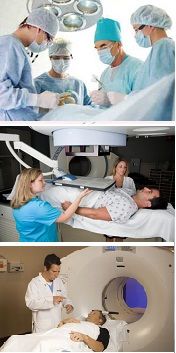 Reputed Prostate Cancer Specialists who have global experience and follow latest cancer treatment protocols.
Complete Cancer Care under one roof- Right from cancer screening, early detection, multi-disciplinary treatment to rehabilitation.
Affordable Cancer Treatment Packages.
Latest High-end technology infrastructure like Robotic Surgery System, Brain Suite, Novalis Radiosurgery TX, PET Scan, CyberKnife , Gamma Knife, IMRT and IGRT that help quick diagnosis and recovery.
Best quality Drugs, Medicines and Consumables for Cancer Care are produced in India at lowest cost and exported to World's best hospital. This results in lowest overall cost of world class cancer treatment in India.
Well trained English speaking Doctors, Nurses and Support Staff provide competent and compassionate Cancer care.
Most Advanced Minimally Invasive Laser Treatment Options, Laser TURP now available for Enlarged Prostate, Prostatis – Minimal Discomfort and Early Recovery Assured.
For decades, transurethral resection of the prostate (TURP) has been the gold standard surgical treatment for benign prostatic hyperplasia (BPH). Howeve​r upto a quarter of patients​ ​ ​undergoing TURP ​may experience some type of complication after​wards​, including bleeding, hyponatremia, urinary incontinence and erectile dysfunction. TURP also subjects patients to risks inherent in any surgical procedure, as well as a hospital stay of one to four days and recovery time of four to six weeks.
1. HoLEP Holmium Laser Prostate Surgery​
Holmium laser prostate surgery uses laser beam to remove the tissues and it provides fast relief and maximum benefit to the patients with benign prostatic hyperplasia. Holmium laser enucleation of the prostate (HoLEP) is a minimally invasive treatment for benign prostatic hyperplasia (BPH). Its short- and long-term outcomes are superior to those associated with transurethral resection of the prostate and suprapubic prostatectomy.
HoLEP is performed transurethrally, using a holmium laser to separate the plane between the prostate gland tissue and the prostate capsule. This procedure allows complete resection of all the adenomatous tissue and in this way minimizing the need for future re-treatment.
HoLEP offers some distinct advantages:
The benefits of Laser Technique are really unmatche
Suitable treatment for any size of prostate gland.
Complete removal of the obstructing prostate tissue down to the prostate's encapsulating structures, resulting in a re-treatment rate of less than 2 percent.
Early, immediate symptoms relief and fast return to normal activity. Next-day catheter removal with limited swelling generally allows patients to void painlessly and immediately. Same-day or next-day hospital discharge is possible when the procedure is performed in a 23-hour observation setting.
Tissue can be preserved for pathologic examination because adenomatous tissue is excised rather than ablated and the surgeons can examine specimens for prostate cancer or other abnormalities. Cancer is found in about 10 percent of HoLEP procedures, even in patients previously screened. In many cases, the cancer identified is of low malignant potential.
Fewer potential complications. The low depth of penetration of the holmium laser causes little damage to healthy tissue, and the risk of excessive bleeding and erectile dysfunction associated with traditional surgical approaches is reduced.
---
2. Laser Surgery for Enlarged Prostate
Green Light Laser PVP:
Photoselective Vaporization of the Prostate (PVP) is also known as the Green Light Laser, has emerged as the treatment of choice for most patients having surgery for BPH. It is minimally invasive in the sense that all the work to open the prostate channel is made through the penis, without an incision on the abdomen. Laser Prostate Surgery procedure will help the patient urinate better, with a good stream. He will be able to empty his bladder fully after the surgery. The obstructive prostate tissue is vaporized by the directed laser beam. This is done under spinal or general anesthesia. The advantages of this approach over the traditional TURP (transurethral resection of the prostate) are many: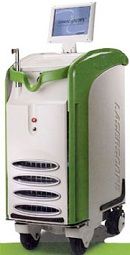 The benefits of Laser Technique are really unmatched:
No Cut
Less Pain
No Bleeding
No need of blood transfusion
Lesser hospital stay
Early return to normal activity and work
World's Most Advanced Robotic Surgery for Prostate Cancer
The da Vinci System has a magnified 3D vision system and special instruments (up to four ports) that bend and rotate. Robotic surgery is done through the da Vinci System, where surgeons operate through a few small incisions in the stomach and perform this through a console and uses hand movements to manoeuvre the tiny instruments inside the body.
This allows malignant tissue to be removed precisely without damaging the healthy prostate tissues. As the manual surgery can damage the nerves for erection and ejaculation which are very close to the prostate and could lead to impotence and erectile dysfunction so all these major risks are not there with Robotic Surgery which is a boon for Prostate Cancer patients.
Unmatched Advantages of Advanced Robotic Surgery for Early Stage Prostate Cancer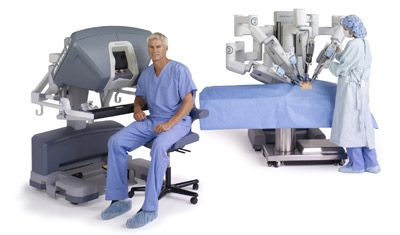 Highly Precise, Conducted with Excellent 3-D Vision, 360- Degree Range of Motion of the Robotic Arm, Watertight Urethrovesical Anastomosis.
No major cut /incision made – Minimal Blood loss and Tissue Trauma, Early Recovery.
Significantly Less pain and Reduced use of pain medication, Quicker healing time, Faster return to Work, Good quality Life.
Reduced duration of hospital Stay.
Excellent Cancer Cure Outcome, Early return of Urine control, Early return of erections.
What People Say ? Patient Experience Video
Please do watch this video. A recent Robotic Surgery patient from Zimbabwe shares his experience about treatment at our hospital in India.
He had multiple co morbidities- diabetes, blood pressure, obesity with BMI more than 35 and obstructive sleep apnoea.
Despite all these medical conditions, he underwent successful robotic radical prostatectomy with pelvic lymph node dissection.
This video was shot 9 days after Robotic Surgery. Foley catheter out, his biopsy report confirmed that he is now cancer free.
He was earlier planning to go to South Africa but the cost was prohibitive. The cost was 1/3rd the cost of South Africa in India and the surgeon had a tremendous experience so he decided to come to India for Robotic radical prostatectomy.
Both the patient and his family are delighted with the world class quality of care provided in India.
How Can You Get a Free Expert Opinion from Top Cancer Specialists in India ?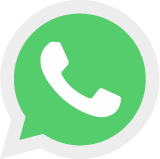 Please Click a picture of your recent medical reports and send to us by WhatsApp, Viber on +91 9899993637 OR

Email to us at help@safemedtrip.com or hospitalIndia@gmail.com
Your case would be reviewed by best Specialists in India and an Expert Opinion with Treatment cost Estimate shall be sent to you with in 2 working days.