High Quality World Class Pediatric Cardiac Surgery from Top Hospitals and Best Cardiac Specialists in India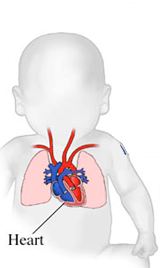 A successful cardiac surgery in children requires an expert medical team – doctors, nurses, and other support staff – who are experienced in such surgeries, can promptly recognize problems and emerging side effects, and know how to react swiftly and properly if problems do arise. A cardiac surgery program will also recognize the importance of providing patients and their families with emotional and psychological support before, during and after the surgery, and will make personal and other support systems readily available to families for this purpose. We make this difficult journey easy for the patient and his relatives.
Paediatric surgeries deal with the correction of abnormalities present in the heart of new-borns, infants or children. Most of the defects are present since birth (congenital). They all come under the category of congenital heart defects. Some are present since birth but cause symptoms after a few years and some cause symptoms immediately after birth.
Get Free Expert Medical Advice/ Second Opinion from Top Heart Specialists by Email, WhatsApp or Viber.