Most Advanced Options for Breast Cancer Treatment at World Class Hospitals In India
Excellent Outcomes and Affordable Cost is assured.
Why you should choose World Class Hospitals in India for Breast Cancer Treatment ?
Reputed Breast Cancer Specialists who have global experience and follow latest cancer treatment protocols.
Complete Cancer Care under one roof- Right from cancer screening, early detection, multi-disciplinary treatment to rehabilitation.
Affordable Cancer Treatment Packages.
Latest High-end technology infrastructure like Robotic Surgery System, Brain Suite, Novalis Radiosurgery TX, PET Scan, CyberKnife , Gamma Knife, IMRT and IGRT that help quick diagnosis and recovery.
Best quality Drugs, Medicines and Consumables for Cancer Care are produced in India at lowest cost and exported to World's best hospital. This results in lowest overall cost of world class cancer treatment in India.
Well trained English speaking Doctors, Nurses and Support Staff provide competent and compassionate Cancer care.
Modalities for Accurate Diagnosis of Breast Cancer
Mammogram
A mammogram is a special x-ray examination of the breast made with specific x-ray equipment that can often find tumors too small to be felt during the breast self-examination. A mammogram is the most used radiographic method available today to detect breast cancer early. It is ideal for women older than 40 years, for whom the risk of breast cancer is increased.
Breast Ultrasound
The primary use of breast ultrasound is to help diagnose breast abnormalities detected by a physician during a physical exam (such as a lump or bloody or spontaneous clear nipple discharge) and to characterize potential abnormalities seen on mammography. Breast ultrasound is used for the diagnosis of a lump because of highly complex anatomy of breast so there may be a possibility that some of the abnormalities might go undetected by mammogram alone.
Fine Needle Aspiration Cytology (FNAC)
FNAC is also one of the pre-operative tests to evaluate the lump. A fine needle is inserted into the lump to aspirate a few cells and spread on a glass slide to study under the microscope to see that a lump or abnormal growth is benign or cancerous. FNAC is mandatory for all breast lumps irrespective of the age of the patient.
Stereotactic Biopsy
It is a minimally invasive, sophisticated technique for extremely small lumps or calcium deposits (micro-calcifications) that cannot be felt but detected by an ultrasound or a mammogram. This method combines mammogram and computer technology to locate and withdraw cells for further analysis and if the test shows cancerous cells then surgeon can plan the treatment accordingly.
Most Advanced Breast Cancer Treatment Options available in India
When deciding what treatment is best for you, your doctors will consider the stage and grade of your cancer (how big it is and how far it's spread) The biology and behavior of a breast cancer affects the treatment plan. Some tumors are small but grow fast, while others are large and grow slowly. Treatment options and recommendations are very personalized and depend on several factors, including:
The stage of the tumor
The tumor's subtype, including hormone receptor status (ER, PR) and HER2 status (see Overview)
Genomic markers, such as Oncotype DX™ and Mammaprint™
The patient's age, general health, and preferences
The patient's menopausal status
The presence of known mutations in inherited breast cancer genes, such as BRCA1 or BRCA2
After surgery, the next step in managing early-stage breast cancer is to lower the risk of recurrence and to get rid of any remaining cancer cells. These cancer cells are undetectable but are believed to be responsible for both local and distant recurrence of cancer. Treatment given after surgery is called adjuvant therapy. Adjuvant therapies may include radiation therapy, chemotherapy, targeted therapy, and/or hormonal therapy (see below for more information on each of these treatments).
1) Surgery
All breast cancer are not the same. More tests will be done to find out the specific pattern and the extent of the disease or stages. This important step is called staging. After an accurate diagnosis and proper staging a suitable Treatment Plan is made. There are several modalities of the treatment-these include Surgery, Chemotherapy, Radiation Therapy and Hormonal Therapy. These are usually used in a combination.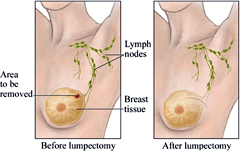 A)Breast Conservation Surgery:
This is a procedure to remove the breast lump or cancerous cells and some of the nearby healthy tissues but leaving the whole breast intact as such, so that at the end of the procedure, you have a near normal breast.
B)Modified Radical Mastectomy (MRM):
This surgery involves the removal of entire breast and axillary lymph nodes. This surgery is recommended in the following circumstances:-
Cancer is found in more than one part of the breast
Breast is so small that wide excision of the lump can severely deform the breast
Following the surgery a drain is placed in the axilla and another drain is placed under the flaps after the Mastectomy. This will be removed in another 7-14 days depending on the amount of the fluid that is draining out. Stitches are removed two weeks after the surgery.
C) Modified Radical Mastectomy with Reconstruction:
For those women who are unhappy with the idea of losing their breast and are suitable for immediate breast reconstruction can choose this option. A plastic surgeon is involved in this surgery and utilizes patient's own tissues to create a breast which closely matches the opposite breast, if required an artificial implant may also be use.
2) Chemotherapy
Many Patients may require Chemotherapy after the Breast Cancer Surgery. In Chemotherapy a combination of the drugs is used to kill the cancer cells. The medical oncologist will plan the therapy according to the individual case. Chemotherapy may be administered as Neoadjuvant,Adjuvant and Palliative chemotherapy.
3) Radiation Therapy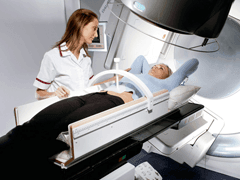 Breast Conservation Surgery is always followed byRadiation Therapy . It may also be used after Mastectomy surgery if required. The radiation therapy uses very high energy X-rays to destroy the cancer cells that still may be present in the affected breast or nearby lymph node. This procedure is painless and the patient does not feel anything when the treatment is going on.
4) Hormonal Therapy
Hormonal therapy is recommended for the hormone receptor- positive cancers because some types of breast cancer also occur due to the hormones. It is a systemic treatment, it means it can reach anywhere in the whole body, not just at the particular organ (localize). Hormone receptors are like ears on breast cells that listen to signals from hormones. These signals "turn on" growth in cells that have receptors. Hormonal therapy medicines can be used to lower the risk of recurrence of early-stage hormone-receptor-positive breast cancer or lower the risk of hormone-receptor-positive breast cancer in women who are at high risk, but haven't been diagnosed with breast cancer and this therapy also helps to shrink or slow down the growth of advanced-stage or metastatic hormone-receptor-positive breast cancers as well.
Patient Testimonials – What People Say about Us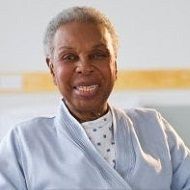 For a woman to be diagnosed with breast cancer can be the worst thing that can happen in her life. When I was diagnosed with it, I felt as if I had reached the end of the world. But then Safemedtrip happened to me and the rest was easy. They handled everything right from choosing the right doctor and the hospital to all the small details surrounding the surgery. FNAC and Biopsy test were done wth 2 days of my arrival at New Delhi hospital and I was taken up immediately for surgery followed by Hormonal treatment.
I sincerely appreciate everything you and all of your team have done for me. The arrangements were just superb, the hospital and the staff were world class. They made me comfortable at every step. Now that I am back home all hale and hearty, I can confidently say to people – If anyone needs a surgery, India is the destination and Safemedtrip your partner in the journey.

Ms. Rebecca Kiruja From South Africa – Breast Cancer
How Can You Get a Free Expert Opinion from Top Cancer Specialists in India ?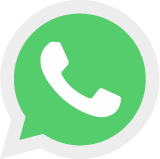 Please Click a picture of your recent medical reports and send to us by WhatsApp, Viber on +91 9899993637 OR

Email to us at help@safemedtrip.com or hospitalIndia@gmail.com
Your case would be reviewed by best Specialists in India and an Expert Opinion with Treatment cost Estimate shall be sent to you with in 2 working days.