Robotic Heart Surgery – World's latest technology now available in India
Robot Assisted Heart Procedures are done to treat a variety of conditions
Get Free Expert Medical Advice/ Second Opinion from Top Heart Specialists by Email, WhatsApp or Viber.
Michael Parker from USA shares his experience about how travelling to India for his mother's heart surgery saved him from a tough financial crisis.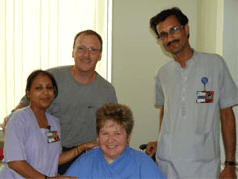 My mother had severe congestive heart disease and was advised open heart surgery which was extremely expensive in USA. I searched on the internet and I found SafeMedTrip. I filled up the form on the website and with in a few hours I got a call from the Case Manager and she asked me to send the medical reports of my mother.
In just two weeks everything was arranged by Safemedtrip and my mother was operated the very next day of landing in India. I am amazed with their kindness, speed and efficiency. Overall it was a great experience. My mother is doing well and I am extremely grateful to everyone SafeMedTrip, the doctors, nurses and all your team. I would strongly recommend you to anyone looking for medical treatment in India.

Request a Call Back
Why you should choose India for Affordable, World Class Heart Surgery, Cardiac Care ?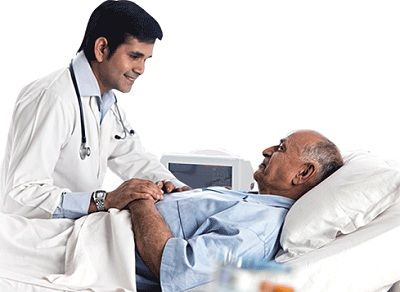 Our state of the art hospitals in India have a 99.5 % success rate of performing most complex cardiac surgeries at the most affordable cost compared to similar modern facilities anywhere in the world.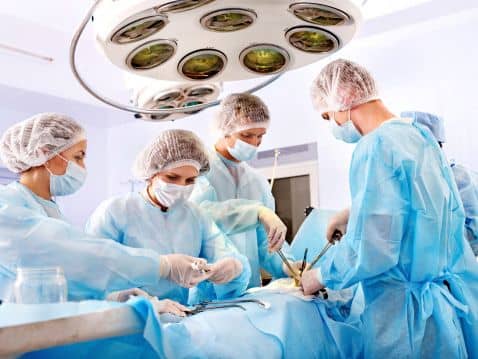 Highly Experienced and skilled US/UK Board certified team of heart surgeons and cardiologists work together to provide comprehensive, multidisciplinary care to patients suffering from heart diseases.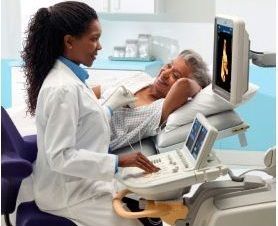 State of the art infrastructure, cutting edge technology providing care to patients Our doctors, nurses, technicians and heart experts bring the promise of unparalleled excellence in patient care.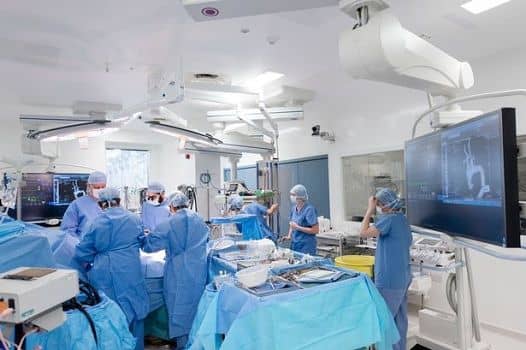 Most Advanced Operation Theatres / Robotic surgery suite – State of the art equipment and monitoring devices necessary to successfully perform complex heart bypass, percutaneous valve surgeries, complex hybrid aortic aneurysm interventions and minimally invasive cardiac operations.
---
Robot Assisted Heart Procedures are done to treat a variety of conditions: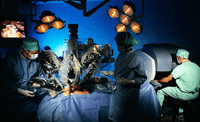 1. Robot Assisted Mitral Valve Repair may be used to treat:
Stenosis (narrowing) of the mitral valve
Regurgitation (leakage) of the mitral valve
2. Robot Assisted Coronary Artery Bypass Grafting (CABG) may be used to treat:
Blockages in the heart's arteries
Severe chest pain ( angina ) that has not improved with medicines
3. Robot-assisted Atrial Septal defect repair may be used to treat a hole between the upper chambers of the heart that does not close properly during foetal development.
4. Robot-assisted Biventricular Pacemaker lead placement may be used to treat heart failure due to Atrial Fibrillation (irregular heart rhythm in the upper chambers of the heart).Get Estimate
Da Vinci Si with 3D HD Vision Surgical System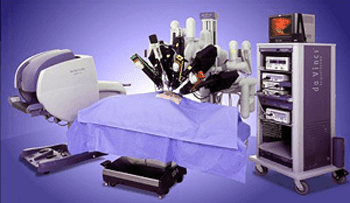 The da Vinci Si with 3D HD vision is the most advanced platform for minimally invasive surgery available today. It combines superior 3D visualization along with great enhanced dexterity, precision and control in an intuitive ergonomic interface with breakthrough surgical capabilities.By enhancing surgical capabilities, robotic surgery helps to improve clinical outcomes and redefine standards of care.
Advantages over Traditional Heart Surgery
Most effective and least invasive treatment for even the most complex cardiothoracic procedures
Precision and accuracy
Enhanced visualization and improved access
Three-dimensional – 3D magnification
Gives the surgeon better control over the surgical instruments and a better view of the surgical site
Naturally occurring hand tremors are filtered out by the robot's computer software

Get Estimate

Advantages of Robotic Heart Surgery

Less Pain and scarring
Minimally Invasive Surgery
Shorter Hospital Stay
Reduced Blood Loss & need for blood transfusion
Reduces the risk of infection
Reduction in use of pain medicines
Faster Recovery & return to normal activities

Get Estimate
Cost of Robotic Heart Surgery in India
Robotic Heart Surgery is the most affordable at our hospitals in India. Indicative Costs of various treatment steps is given below
Robotic Heart Surgery: Costs approximately 7000 US Dollars.
Days in Hospital:5-6 days
---
Heart patient vouches for a passage to India :- Julia Medew, May 14, 2011

THE last thing John C remembers before being anaesthetized for surgery in India was a doctor saying, "OK, Mr John,you must go to sleep now". The 61-year-old laughs about the "Mr John" reference now as one of the more quirky things about getting a new valve put into his heart in Delhi two months ago.
After researching his options as a patient with no health insurance in Australia, Mr Chandler decided he was better off paying $20,000 to travel to a modern Indian hospital for a minimally invasive, robotic procedure than going on the public waiting list for open-heart surgery or paying $60,000 for the same robotic operation in a private Australian hospital. "It was amazing. The company organized all the transport, accommodation, internet, a mobile phone, all my medications, it was very easy … I feel great now. It all went very smoothly."
Mr Chandler rejects claims about superbugs as scaremongering. In India, he drank bottled water, was given a room and bathroom of his own in the hospital in Delhi and says he was subjected to more diligent infection controls than he has seen in Australia.
They cleaned the floor every two or three hours and every time a doctor or nurse saw me, they had masks on, feet gear, head gear, the whole lot. I don't think there is a problem there at all

Refer a Patient
---
Get the SafeMedTrip Advantage
Benefit from our expertise of helping hundreds of foreign patients find top quality, affordable medical care in India.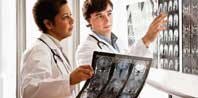 Get Expert Medical Opinion/ Second Opinion – Send us the Medical reports by Email or WhatsApp and we will get you Expert Advice ​​and ​Treatment Cost Estimates​ from Top Specialist at ​Three of India's ​leading hospitals within ​48 hours.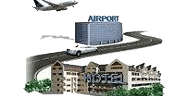 Free Concierge ​Services​ –​ Once you decide to come to India, We will arrange ​Priority Scheduling of Hospital Appointments, Travel & Visa Assistance, Airport Pick up, Economical Hotel Stay, ​Complete ​Local Support​ ​24X7.​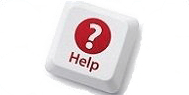 No Obligation – Zero Cost Assistance. We do not collect any service fee from patients. You will directly pay the hospitals after you arrive in India. We ensure Quick, Hassle Free, Affordable Treatment at World Class hospitals in India.
Get Expert Opinion from India's Best Doctors.