Medanta – The Medicity Super Specialty Hospital, New Delhi NCR, India
Medanta – The Medicity
Spread across 43 acres, the institute includes a research center, medical and nursing school. It has 1250 beds and over 350 critical care beds with 45 operation theatres catering to over 20 specialties. Medanta houses six centers of excellence which will provide medical intelligentsia, cutting-edge technology and state-of-the-art infrastructure with a well-integrated and comprehensive information system.
Medanta – The Medicity brings together an outstanding pool of doctors, scientists and clinical researchers to foster collaborative, multidisciplinary investigation, inspiring new ideas and discoveries; and translating scientific advances more swiftly into new ways of diagnosing and treating patientsand preventing diseases. A one-of-its-kind facility across the world, Medanta through its research integrates modern and traditional forms of medicine to provide accessible and affordable healthcare.
Centres of Excellence
Medanta Heart Institute

Clinical Cardiology
Minimally Invasive and Robotic Cardiac Surgery
Paediatric Cardiology
Electrophysiology
Adult Cardiac Surgery
Vascular Surgery
Thoracic Surgery
Medanta Institute of Neurosciences

Neurology
Brain Suite (Intra-operative MRI)
Pediatric Cardiac Surgery
Stroke Unit
Spinal Surgery
Pediatric Neurology
Interventional Neuroradiology
Epilepsy Unit
Medanta Bone & Joint Institute

Joint Replacement Centre
Pediatric Orthopedics
Spine Unit
Sports Medicine Unit
General Orthopedics and Trauma
Pediatric Neurology
Hand Surgery Unit
Medanta Institute of Digestive & Hepatobiliary Sciences

Gastroenterology
Hepatology
Laparoscopic Surgery
Liver Transplant Centre
Pediatric Gastroenterology
GI Surgery
Bariatric Surgery
Medanta Institute of Minimally Invasive Surgery

Minimally Invasive Cardiac Surgery
Robotic Radical Prostatectomy
Minimally Invasive Genitourinary Surgery
Minimally Invasive Surgical Gastroenterology
Minimally Invasive Spinal Surgery
Minimally Invasive Thoracic Surgery
Minimally Invasive Joint Replacement
Minimally Invasive Gynecological Surgery
Minimally Invasive Neurosurgery
Medanta Institute of Transplant & Regenerative Medicine

Kidney Transplant
Small Gut Transplant
Heart Transplant
Stem Cell Therapy Centre
Liver Transplant
Pancreatic Transplant
Bone Marrow Transplant
Surgical Oncology
Delivery of highest quality cancer care in a safe environment and based on the latest advances in diagnostic and therapeutic research shall remain our lasting goal We are committed to provide best in- class precision radiation therapy. The technology and equipment here is comparable to that available in the most advanced centres across the globe. A meticulous planning with accurate delivery is aimed to ensure optimal patient treatment with a human touch.
Radiation Oncology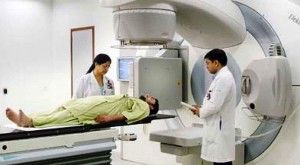 Medanta Cancer Institute (Division of Radiation Oncology) is a comprehensive Institute with a mission to provide 'Holistic Care' to patients. A team of highly qualified and dedicated doctors is supported by a cutting edge technology to add years with a good Quality of Life (QOL). At Medanta Cancer Institute (Division of Radiation Oncology) we have the following technology: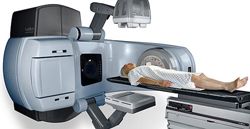 The VMAT (volumetric arc therapy) or Infinity Linear acceleratorwhich is a first installation across India. It reduces the radiation delivery time to 2 minutes even for the most complex Intensity Modulated Radio Therapy (IMRT).
Image Guided Radiotherapy (IGRT) with X-Ray Volume Imaging(XVI)giving a virtual CT scan on the Linear accelerator in real time. The availability of molecular imaging in the form of PET-CT for fusion with MRI(3.0 Tesla) ,CT Scan(256 slice) and CT –Simulation (32 slice).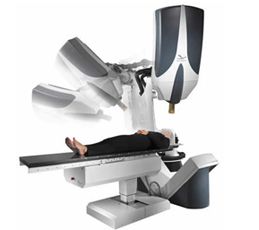 CyberKnife Radiosurgery A new hope for patients who have inoperable or surgically complex tumors, or who may be looking for a non-surgical option.Cyberknife radiosurgery is a non –invasive, high-energy radiation treatment that delivers very precise beams of radiation from many angles outside the body.
The accuracy of Cyberknife is so precise that radiation can be 'matched' to the shape of small complex tumors, even those located near critical organs. This ability allows Cyberknife to treat many lesions including some considered inoperable or untreatable with surgery.
Medical Oncology & Hematology
At Medanta Cancer Institute (Division of Medical Oncology & Hematology) are to deliver highest quality and advanced oncology care in a supportive and compassionate environment to all our patients, and to advance the treatment and prevention of cancers through innovative research. Our mission is to achieve excellence in clinical and basic research, and cancer treatment through multidisciplinary collaboration with surgical and radiation oncology specialists as well as psychosocial specialists and volunteer faculty.
With greater focus on the individual to be treated both as a patient and a person, full spectrum and evidence-based oncology therapeutics shall be the focus of clinical practice; new therapies such as immunotherapy, anti angiogenesis and targeted therapies shall be incorporated into treatment algorithms.
International Patients Services
"Medanta Medicity hospital has International Patients Services Department manned by experienced personnel who offer assistance with a wide spectrum of services to create hassle-free and pleasant stay for patients and their attendants."
Airport pick-up/transportation.
Accommodation.
Direct admission arrangement.
Scheduling of appointments.
Food & Beverage.
Language translation.
Liaison with employers and insurance companies.
Multiple payment options.
Travel related assistance.
See What People Say about us?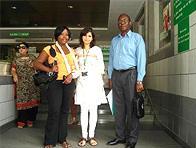 "I am very happy with the services at the hospital. Medanta – The Medicity Hospital Team was very nice and understanding and anwsered many of my questions.
I really appreciate everything and the kindness of the Doctors and staff for investing time in me. Medanta – The Medicity Hospital is the best and they helped us me and my Dad a lot during our stay."
"Thank You and God Bless you all"
David and Eunice, UK, Robotic Prostate Surgery