Dr. Vijay Kumar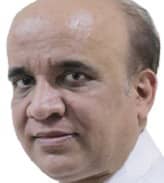 Main Speciality:
Interventional Cardiologist
Additional Director , DNB, MD, MBBS, 21 years of experience,
New Delhi, India

Send Enquiry
About Doctor
Dr. Vijay Kumar is Interventional Cardiologist with 21+ experience. Persuaded his MBBS and MD in General Medicine from Sambalpur University followed by DNB in Cardiology from the National Board of Education, New Delhi. He is a member of the Delhi Medical Council of India. Dr. Kumar's expertise lies in Aortic valve surgery, Heart Conditions, Cardiac ablation, Cardiac catheterization, Cardioversion, Carotis angioplasty, Stenting, Coronary angiogram, Bypass surgery, Mitral valve replacement, CT angiogram, ICDS, Pacemaker Implantation and Cardiac Rehabilitation. Efficiently handles the chest pain treatment and has a good rapport with the patient.
Specialization
Cardiac Ablation
Cardiac Catheterisation
Cardioversion
Carotid Angioplasty And Stenting
Coronary Angiogram
Coronary Angioplasty / Bypass Surgery
Mitral/Heart Valve Replacement
CT Angiogram
Implantable Cardioverter-Defibrillators
Acute Aortic Dissection
Cardiac Rehabilitation.
Education and Training
MBBS, University Of Allahabad, Allahabad
MD, University Of Allahabad, Allahabad
MRCP, Royal College of Physicians London, UK
Location
India
Get Expert Opinion from Dr. Vijay Kumar