Dr. Arvind Sethi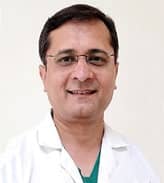 Main Speciality:
Interventional Cardiologist
Associate Director , MBBS, MD, DNB, 16 years of experience,
New Delhi, India

Send Enquiry
About Doctor
Dr. Arvind Sethi is a renowned Interventional Cardiologist with experience of 16 years. He has expertise Peripheral Vascular Surgery, Fetal Echocardiography,Cardiac Pacing, Hypertriglyceridemia and Aortic Valve Surgery.
He is an active member of Cardiological Society of India (CSI), Association of Physicians of India (API), Indian Academy of Echocardiography and AM – SCAI (USA).
Dr. Sethi was fellow of European Society of Cardiology – FESC and International Medical Sciences Academy – FIMSA. He was the faculty at ECHO Delhi, Endovascular Live, India ACT Conference.
Specialization
Coronary Artery Disease (CAD)
Aortic Aneurysm
Aortic Aneurysm Repair
Heart Transplant
Heart Valve Repair
Heart Valve Replacement
Peripheral vascular disease
Education and Training
Location
India
Get Expert Opinion from Dr. Arvind Sethi