Dr Suparno Chakrabarti
Dr Suparno Chakrabarti – Medical Oncologist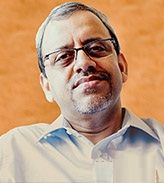 Main Speciality:
Medical Oncologist
23+ years of experience
Qualifications:
MBBS, MD

Send Enquiry
About Doctor
Presently associated as the Senior Consultant in BMT & the Haematology department of Dharamshila Hospital, New Delhi. Expertise's are in field of Haematology and Bone marrow transplantation. In the field of Haematology and BMT his work wasappreciated by the Royal College of Pathologists that awarded him with the fellowship.
Peer Reviewer for several scientific journals including the Blood, Bone Marrow Transplantation, Hematologica, British Journal of Hematology, Clinical Infectious Diseases, Biology of Blood & Marrow Transplantation, JAMA, Lancet, & more.
Member of many prestigious organisations such as American Society of Haematology, British Society of Blood and Marrow Transplantation. Also a member of renowned scientific working group on ′QoL and Symptoms′ of European Haematology Association
Specialization
Education
MBBS, PGIMER, Chandigarh
MD, PGIMER, Chandigarh
Work Experience
Director, Apollo, Geneagles Hospital, Kolkata, 2013
Principal Consutant, St.George Hospital, London, 2009
Principal Consutant, City Hospital Birmingham, 2003
Location
India
Get Expert Opinion from India's Best Doctors.