Dr. Vinod Sharma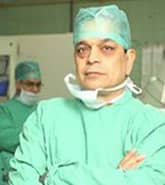 Main Speciality:
Adult and Paediatric Cardiac Catheterisation and Angiography
HOD , MBBS, New Delhi , India
New Delhi, India

Send Enquiry
About Doctor
Dr. Vinod Sharma is an experienced Interventional Cardiologist based in New Delhi. Currently associated as the Vice Chief Executive Officer & Head of Cardiology Services at the National Heart Institute, New Delhi.
Dr. Sharma Specialization in Adult and Paediatric Cardiac Catheterisation and Angiography; Percutaneous Coronary Intervention including PTCA / Intra-Coronary Stent / Intra-Coronary Radiation Stent / Rotational Atherectomy / Thrombectomy; Non-Coronary Interventions including Balloon Valvuloplasty & Pericardial Interventions; Percutaneous Non-Coronary Interventions, Peripheral Angiography & Angioplasty, Carotid Angiography and Angioplasty, Balloon Valvuloplasty & PDA Closure; Percutaneous IVC Filter insertion for Pulmonary Embolism; Electrophysiological studies and Radiofrequency Catheter Ablation for Supraventricular Tachyarrhythmias; Implantation of Permanent Pacemakers, AICD & Biventricular Pacing.
Education and Training
MBBS, Raipur University
M.D. (Medicine),
D.M. (Cardiology),
FACC, FSCAI,
FIMSA,
MBA
Location
India
Get Expert Opinion from Dr. Vinod Sharma