Dr. Shivakumar S Kupanur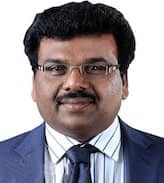 Neurosurgeon
Main Speciality:
Spine Surgeon
Senior Consultant , MBBS, DNB, Fellowship, 23 years of experience in India

Send Enquiry
About Doctor:
Dr. Shivakumar S Kupanur is one of the most well-known Neurosurgeons with over 23+ years of experience.
He is a life member of the Neurological Society of Indian (NSI), Bangalore Neurological Society (BNS), and an associate member of the American Association of Neurological Surgeon (AANS), and AO Spine.
Dr. Kupanur has performed more than 3000 complex neurosurgeries and spinal surgeries and has special skills in managing patients with stereotactic, functional neurosurgery, awake craniotomy surgeries for eloquent lesion, etc.
He graduated from Mysore University in 1996, after which he further pursued DNB in Neurosurgery from Manipal Institute for Neurological Disorder (MIND), Bangalore in 2006.
He has also undergone special training for vascular surgery and complex spine surgery and has s Fellowship from Manipal Hospitals, Bangalore on the same, which he did in 2012.
He also has a strong academic and research interest in the field of neurosurgery and has presented and published many papers in different conferences, CMEs, and journals
Specialization:
Radiosurgery (Cyberknife, Gamma Knife)
Surgery for Epilepsy
DBS Surgery for Parkinson's Disease
Brachial Plexus and Nerve surgery
Cerebrovascular Surgery (Aneurysms, AVMs)
Skull Base Surgery
Sleep Disorders
Restless Leg Syndrome Treatment
Narcolepsy Treatment
Headache
Multiple Sclerosis Treatment
Chronic Cerebro Spinal Venous Insufficiency Treatment
Liberation Treatment
Sensory Ataxia Treatment
Craniotomy Surgery
Cranioplasty
Deep Brain Stimulation
Work Experience of Dr. Shivakumar S Kupanur
Consultant, BGS Gleneagles Global Hospitals, Bangalore
Consultant, Manipal Hospital (Old Airport Road) Bangalore
HOD, Sapthagiri Super Speciality Hospital
Education:
MBBS, 1996, Mysore University
DNB, 2006, Manipal Institute for Neurological Disorder (MIND), Bangalore
Fellowship, 2012, Manipal Hospital, Bangalore
Location:
India
Get Expert Opinion from Dr. Shivakumar S Kupanur