Dr Rahul Gupta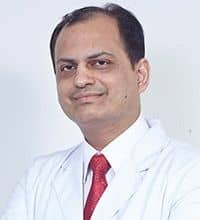 Neurosurgeon
M.S., Mch.
Senior Consultant & Head Neurosurgery

Send Enquiry
About:
Dr. Rahul Gupta brings to Fortis Hospital a vast clinical and academic experience of over 10 yrs experience in Neurosurgery practising at some of the best Institutes in India.
He is amongst reputed neuro spine surgeons in India and is now at the forefront of doing cutting edge clinical work in the areas of most modern treatment modalities such endoscopic brain & spinal surgery, and microscopic & vascular surgery.
Professional Experience :
Senior Research Officer Neurosurgery (2005‐06) PGIMER, Chandigarh
Assistant Professor Neurosurgery (2006‐07) PGIMER, Chandigarh
Assistant Professor Neurosurgery (2007‐09) G B Pant hospital, New Delhi
Associate Professor Neurosurgery (2009‐12) G B Pant hospital, New Delhi
Surgical Expertise:
Skull Base Surgery‐ Anterior, Middle and Posterior skull base approaches, Pituitary Adenoma including endonasal and endoscopic Acoustic Schwanomas/ Meningiomas / Craniopharyngiomas CranioVertebral Junction including trans Oral surgeries
Brain tumor Surgery ‐ Microsurgery for other brain tumors / Intraventricular tumors / CSF rhinorrhia.
Cerebrovascular Neurosurgery
Awards & Honors:
Best Paper Award in Neuro Trauma Conference (2007) and Skull Base Conference (2008) Sugita Scholarship, Nagoya University, School of Medicine, Nagoya, Japan (2011)
Research and Publications:
More than 40 publications in indexed journal (24 International & 16 National)
Get Expert Opinion from Dr Rahul Gupta.