Dr. Vipul Narain Roy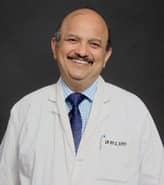 Main Speciality:
Interventional Cardiologist
Consultant , MBBS, MD, MRCP, 30 years of experience,
New Delhi, India

Send Enquiry
About Doctor
Dr. Vipul Narain Roy is one of the best Cardiologist in New Delhi. He is an Interventional Cardiologist with 30+ years of experience. He is a member of the Indian Medical Association (IMA) and Cardiology Society of India. He completed his MD in India and went to the United Kingdom where he spent 8 years in Liverpool at Regional Adult Cardiothoracic Center.
His expertise lies in Drug-eluting stents, Transradial interventions, Preventative Cardiology, Radiofrequency ablation of arrhythmias, Ventricular assist mechanical support, etc. He has successfully operated on more than 10K interventions and is one of the key members in Apollo's team of specialists performing the most complicated coronary artery bypass surgery. Dr. Roy has written for many national and international journals along with a book on Interventional Cardiology.
Specialization
Angiogram
Blood Vessels
Cardiac Ablation
Cardiac Catheterization
Cardiac MRI
Cardio Thoracic Surgery
Education and Training
MBBS, University Of Allahabad, Allahabad
MD, University Of Allahabad, Allahabad
MRCP, Royal College of Physicians London, UK
Location
India
Get Expert Opinion from Dr. Vipul Narain Roy