Dr. Surender Nath Khanna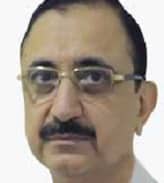 Main Speciality:
Cardiac Surgery/ Cardio Thoracic Vascular Surgery
Associate Director, Department of Cardiovascular Surgery, MCh, MS, MBBS, 25 years of experience,
New Delhi, India

Send Enquiry
About Doctor
Dr. Surendra Nath Khanna is a well-known name in the field of Cardiovascular Surgery, he is a renowned Cardio-Thoracic Vascular Surgeon with 25+ experience. He specialises in all types of adult cardiac surgical work. He is one of the leading and most experienced cardiac surgeon with expertise in Beating Heart Surgeries, Cardiac Valvular Surgery-Mitral Valve, Aortic Valve, Tricuspid valve, Double Valve Replacements and Redo-valve surgeries. He also has special interest in Valve Repairs, Minimally Invasive Cardiac Surgery, Aortic Aneurysm Surgery, and Heart-Failure Surgery.
Persuaded his MBBS and MS in General Surgery from the reputed King George's Medical College, Lucknow afterward he did his M.Ch in Cardiovascular & Thoracic Surgery from Mumbai University, India.
He has operated over 7,000+ cardiac surgeries and has worked in some of the premier institutes on India like San Raffaele Hospital, Mila, Italy, King Edward Memorial Hospital, Mumbai, Christian Medical College, Vellore, Max Heart and Research Institute, New Delhi and Fortis Escorts Heart Institute New Delhi.
Dr. Khanna organizes various health camps to spread awareness of cardiac diseases and has been appreciated by society and the media. He provides free cardiac care in remote areas. Under his credit, there are more than 150+ national and international publications accredited by the indexed journals.
Specialization
Radial Approach Angiography
Pacemaker Implantation
Patent Ductus Artriosus Device Closure
Peripheral Angioplasty
Coronary Angioplasty / Bypass Surgery
Cardioversion
Patent Foramen Ovale
Balloon Mitral Valvuloplasty
ASD / VSD Device Closure
CT Angiogram
Cardiac Ablation
Acute Aortic Dissection.
Education and Training
MCh, 1995, Mumbai University, India.
MS, 1990, Lucknow University, India.
MBBS, 1986, Lucknow University, India.
Location
India
Get Expert Opinion from Dr. Surender Nath Khanna