Dr. Sanjay Kumar Pandey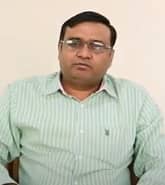 Main Speciality:
Cardiac Surgeon
HOD , MBBS, MS, MCh, 11 years of experience
New Delhi, India

Send Enquiry
About Doctor
Dr. Sanjay Kumar Pandey is a well-known Cardiothoracic and Vascular Surgeon, practicing successfully for more than 11 years. He is skilled in performing Cardiac, Thoracic and Vascular surgeries.
He has expertise in CABGs, MVR, Valve repairs, AVRs, DVR, ASD, TOF, PDA, Aortic Aneurysms, RSOV, pericardiectomies and various thoracic and vascular surgeries such as Carotid Endarterectomise and TEVAR etc. In his career spanning more than a decade, he has carried out 4000 open heart surgeries that include CABG (on and off pump), valve replacements and repair, aortic aneurysms, congenital heart surgeries.
He is also involved in teaching and is a visiting faculty at Jamia Hamdard University, New Delhi and Ph.D. Guide at Singhania University, Rajasthan. He has attended numerous conferences and has been invited as faculty and speaker at several National and International conferences.
He is also actively involved in organizing CMEs, symposiums, health talks at various scientific forums at National and International level. He is the Life member of India Association of Cardiothoracic Surgeons and a member of Indian Association of Cardiovascular Thoracic Surgeons, India. He is also involved in research and has published papers in reputed National and International medical journals.
Specialization
ABGs
MVR
Valve repairs
AVRs
DVR
ASD
TOF
PDA
Aortic Aneurysms
RSOV
Pericardiectomies
Carotid Endarterectomise
TEVAR
Education and Training
MBBS, 1996, King George's College, Lucknow
MS, 2002, General Surgery, King George's College, Lucknow
MCh, 2005, Cardiothoracic and Vascular Surgery, King George's College, Lucknow
Location
India
Get Expert Opinion from Dr. Sanjay Kumar Pandey