Dr. Sameer Dhingra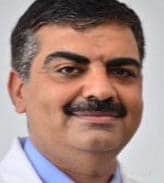 Main Speciality:
Cardiac Surgeon
Consultant , MS, MBBS, 8 years of experience
New Delhi, India

Send Enquiry
About Doctor
Dr. Sameer Dhingra is a renowned cardiothoracic and vascular surgeon with 8+ experience. Well versed with off-pump CABG surgeries, minimally invasive CABG, open heart procedures, congenital heart defects (blue baby) procedures.
His expertise lies in treating mitral valve repair, Minimal Invasive Cardiac, Left ventricular assist devices, Extracorporeal life support, Complex Aortic Surgeries, Aortic arch replacement, Aortic Aneurysms, and Aorta surgery. Attended various national and international conferences. Efficiently handles cardiothoracic and vascular emergencies.
Specialization
Mitral valve repair
Minimal Invasive Surgery
Left ventricular assist devices Extracorporeal life support
Complex Aortic Surgeries
Aortic arch replacement
Aortic Aneurysms.
Education and Training
Location
India
Get Expert Opinion from Dr. Sameer Dhingra