Dr. GS Wander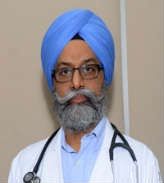 Dr. GS Wander – Cardio-Thoracic Surgeon
Cardiologist
Senior Consultant , MBBS, MD, DM, 29 years of experience, Ludhiana , India

Send Enquiry
About Doctor
Passed MBBS with Honours (with more than 70% marks in each subject) and was the Second Best Graduate of the University. During graduation was awarded Merit Scholarship and 3 Silver Medals for 1st Position in Medicine, Eye, ENT and Forensic Medicine and 2 Bronze Medals for 2nd position in 2nd and final professionals. Was Captain and Champion College Table Tennis Team and was awarded Institute Colour at PGI for Table Tennis. Passed MD and DM in Cardiology both from PGIMER, Chandigarh and thereafter worked for 8 months as a Senior Resident till August, 1988.
Joined Dayanand Medical College on 1st Sept., 1988 as Lecturer Cardiology Unit. Being one of the first few cardiologists in North India to start cardiac specialized services in the region started Cardiology unit at Dayanand Medical College & Hospital, Ludhiana in 1988 and gradually procedures like Treadmill Testing, Color Doppler Echocardiography, Stress Echocardiography and Temporary and Permanent Pacemaker Implantation were introduced. Was Instrumental in planning, developing and setting up Hero DMC Heart Institute at Ludhiana in year 2001,a tertiary cardiac care centre with 170 bedded cardiac facility having two cath labs and five operating rooms.
In last 28 years have been involved in research actively and have published 106 Papers, 45 of them in Foreign Journals of repute like The Lancet,Nature Genetics, Journal of American College of Cardiology, American Journal of Cardiology, British Heart Journal and Japanese Heart Journal. 115 papers have been presented in National and International Conferences.Have contributed thirty six chapters in books.Have authored 3 books as editor and sub-editor.Have conducted few animal experimental studies on atherogenicity of oxidized cholesterol and a British collaborative study on Coronary Heart Disease. Have been co supervisor of 45 MD thesis in these 28years.
Have been actively involved in undergraduate and postgraduate teaching and have been invited in various CME programmes in different hospitals. Attended American College of Cardiology Conferenceat Atlanta in year 1991 and year 2000 as Heart Beat International Fellow.Medical Director of Ludhiana Rotary Pacemaker Bank.The Ludhiana rotary pacemaker bank has provided around 150 free pacemakers to poor and needy patients. Awarded Sujoy B. Roy Fellowship in 1993from AIIMS, New Delhi.Was member of Core Committee which has formulated Indian Guidelines Management of Hypertension in 2001, 2005 and 2013 for the first time. This committee was formed by API, CSI, ICP& HSI India. The Committee consisted of six Consultants from all over country.
Specialization
Chest,
Endocrinology,
Gastroenterology,
Nephrology,
Rheumatology & Immunology
Work Experience
Senior Resident, Post Graduate Institute of Medical Education and Research Chandigarh, 1987
Post Graduate Institute of Medical Education and Research, Chandigarh, 1995
Professor, Dayanand Medical College and Hospital, Ludhiana, 1994
Head of Department, Hero DMC Heart Institute Dayanand Medical College and Hospital, Ludhiana
Education
MBBS, 1981, Punjabi University, Patiala
MD, 1985, Post Graduate Institute of Medical Education and Research, Chandigarh
DM, 1987, Post Graduate Institute of Medical Education and Research, Chandigarh
Location
India
Get Expert Opinion from Dr. GS Wander.