Dr. Dheeraj Garg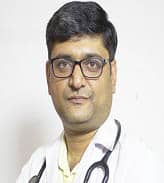 Main Speciality:
Interventional Cardiologist
Senior Consultant , DM, MD, MBBS, 15 years of experience,
New Delhi, India

Send Enquiry
About Doctor
Dr. Dheeraj Garg is a reputed Cardiologist and more than 15 years. He is special interest in Adult Intervention Cardiology and Cardiac Electrophysiology. His expertly carries out Coronary Angiography, Coronary Angioplasty/ Bypass Surgery, Peripheral Angioplasty, Radial Approach Angiography, Pacemaker Implantation, Cardiac Ablation, Electrophysiological Study (EPS and RFA).
In his career, he has done nearly 10,000 Coronary Angiograms, 1000 Percutaneous Angiograms and 100 IABP Insertions. Moreover, he has implanted 200 Permanent Pacemakers, 10 ICDs and done Radiofrequency Ablations of more than 200 Supraventricular Arrhythmias (AVNRT, all types of Bypass Pathways, Atrial Flutters). He was the recipient of Gold Medal in MBBS, 1995. He takes keen interest in teaching, and chaired the post of Assistant Professor in G.B. Pant Hospital for a few years.
Specialization
Coronary Angiography,
Peripheral Angioplasty,
Radial Approach Angiography,
Cardiac Ablation,
Cardiac Electrophysiology (EPS and RFA),
Vascular Surgery,
Mitral/ Heart Valve Replacement
Education and Training
DM, 2007, Post Graduate Institute of Medical Education and Research, Chandigarh
MD, 2003, University of Delhi
MBBS, 1999, University of Delhi
Location
India
Get Expert Opinion from Dr. Dheeraj Garg