Dr. Rakesh Ojha
Dr Rakesh Ojha – Medical Oncologist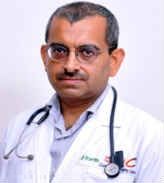 Main Speciality:
Medical Oncologist
15+ years of experience
Qualifications:
Senior Consultant , Fellowship, Diploma, MD, MBBS

Send Enquiry
About Doctor
Dr. Rakesh Ojha is an eminent oncologist in the field of bone marrow transplantation. He is presently associated with the International Oncology Center at Fortis Hospital, Noida as a Senior Consultant. With more than 20 years of experience in the treatment of various types of cancer cases, he is respected worldwide for his expertise. He demonstrates a brilliant track record with MBBS degree from GSVM Medical College, Kanpur; MD from Seton Hall University, New Jersey, USA; Diplomate in Internal Medicine and Diplomate in Haematology & Medical Oncology, both from American Board of Internal Medicine. He has also undertaken Haematology/Oncology Fellowship Program at St. Joseph`s Regional Medical Centre, Paterson, NJ. Haematology and Bone Marrow Transplant are his primary areas of clinical interest.
Dr Rakesh Ojha's valuable contributions to the medical field are honoured through prominent awards like New Jersey Cancer Research Award for Scientific Excellence by The New Jersey Commission on Cancer Research; AMGEN Oncology Research Fellowship Award; Residents Clinical Cancer Research Paper Award by the Oncology Society of New Jersey; and Awarded Faculty Teaching Award by St. Joseph`s Regional Medical Center, New Jersey.
Dr Rakesh Ojha is also a member of – American Society of Haematology and American Society of Blood and Bone Marrow Transplantation He frequently author scientific publications for national and international journals. He was invited to participate as co-investigator and sub-investigator in clinical trials at St. Joseph`s Regional Medical Centre, Paterson, NJ, an opportunity bestowed to very few. He is also associated with setting up Blood and Marrow Transplantation programs at various Oncology centres in India. He has also done revolutionary work in the field of Cord blood transplant.
Specialization
Lung Cancer, Leukaemia, Skin Cancer, Brain Tumors and Cancer of Unknown Origin
Education and Fellowship
MBBS – GSVM Medical College Kanpur, India, 1992
MD – Seton Hall University, New Jersay, USA, 1998
Diploma – Internal Medicine – American Board of Internal Medicine, 1998
Fellowship – Hematology & Oncology – Seton Hall University, St. Joseph's Regional Medical Center, Paterson, NJ, 2001
Diploma – Hematology and Medical Oncology – American Board of Internal Medicine, 2001
Work Experience
Senior Consultant, Fortis Hospital, Noida
Associate Professor, Temple University, Philadelphia, 2005
Visiting Consultant, St. Joseph's Regional Medical Center Paterson, NJ, 2001
Consultant, Bergen Regional Community Blood Center, Paramus, NJ, 2000
Junior Consultant, LLRM Medical College, Meerut, 1994
Junior Consultant, King George Medical College, Lucknow, 1993
Location
India
Get Expert Opinion from Dr Rakesh Ojha