Dr Anil Kumar Anand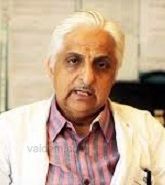 Dr Anil Kumar Anand – Radiation Oncologist
Radiation Oncologist
Director , MBBS, MD, 23+ years of experience New Delhi , India

Send Enquiry
About Doctor
Dr. A.K. Anand is a renowned Oncologist of India. An MBBS and MD (Radiotherapy & Oncology), he has a vast experience in his field of expertise. He has held various posts including his present position as the Director – Department of Radiation Oncologist – Max Hospital, Saket, Senior Consultant and Coordinator-Department of Radiation Oncology, Rajiv Gandhi Cancer Institute and Research Center, New Delhi; Senior Consultant -Department of Radiation Oncologist, Batra Hospital. He has also been an active member of Association of Radiation Oncologists, India; Radiation Research Society, USA; American Society for Therapeutic Oncologist, USA. Dr. Anand has also won many awards and accreditations. He has been empanelled by the World Health Organization and UNO as a recommended doctor. Currently, he is working as a Director, Radiation Oncologist at Max Super Specialty Hospital, New Delhi.
Specialization
Intensity Modulated Radiotherapy [IMRT), Image guided radiotherapy [IGRT), Stereotactic Radiosurgery, Stereotactic radiotherapy and Intra operative Brachytherapy and has numerous papers published in journals of national and international repute, to his credit.
He was awarded commonwealth fellowship and worked at The Middlesex Hospital Medical School, London and was also awarded Nargis Dutt Foundation Fellowship at the New York Hospital Medical Centre of Queens, New York, affiliated to Cornell University.
Work Experience
Director, Max Super Speciality hospital, Patparganj, New Delhi
Senior Consultant, Rajiv Gandhi Cancer Institute & Research Center.
Senior Consultant, Batra Hospital and Medical Research Center, New Delhi.
Education
Radiation Oncologist training from PGIMER, Chandigarh
St. Bartholomew's Hospital, London
Fellfbai
New York Hospital Medical Center of Queens, New York
Royal Marsden Hospital, London
Hammersmith Hospital, London
Clatterbridge Hospital, Liverpool
Location
India
Get Expert Opinion from Dr Anil Kumar Anand.