Image Guided Radio Therapy – Procedure & Cancer Treatments from Leading Hospitals and Top Oncologists in India
Excellent Outcomes and Affordable Cost is assured.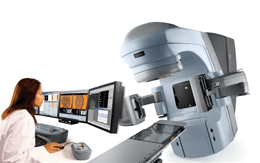 Image Guided Radio-Therapy (IGRT) is a revolutionary new procedure that is helpful in the treatment of cancer. It's far superior to the current procedures that use imaging techniques such as ultrasonogram and electronic portal imaging. It uses on board kilo-voltage cone beam CT scan for precise positioning of tumors.
Under this procedure, the image of the tumor area is taken and the radiation administered simultaneously in real time, thereby allowing the physician to target the radiation at the exact location of the tumor. This means radiation kills only cancerous cells and not the surrounding healthy tissues.