Deep Brain Stimulation for treatment of Parkinson's Disease, Tremors, movement disorders at Best Neurosurgery Centers in India.
Deep Brain Stimulation from Top Specialists in India
---
Why you should choose World Class Neurosurgery Hospitals in India ?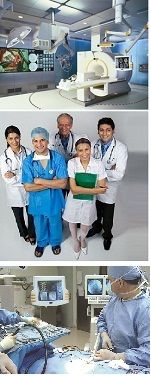 World-class Hospitals with dedicated Neurosurgery and Neurology ICUs and centres of Specialisation for brain tumours, spinal disorders, stroke, epilepsy, movement disorders and headache
Experienced Team of professionals having a specialist Neurologist (Movement Disorder specialist), Specialist Neurosurgeon, Neuroradiologist, Physiotherapist and Dietary specialists who provide high-quality care
Most Advanced Technology like Brain Suite, Biplane Neuroendovascular Angiography, Synergy S Linac System, S-7 Navigation System, Endoscopic Neurosurgery Theatre, 3 Tesla MRI, 256 slice CT scan, PET scan
Low Cost Treatment package which includes Airport Pick up and Drop from Airport in India, Hospital Stay, Testing/Screening, Deep Brain Stimulation Treatment, Consultations with Specialist Doctors , Nursing care, Surgeon Fee, Medicines and Consumables.

Request a Call Back
What is Deep Brain Stimulation (DBS)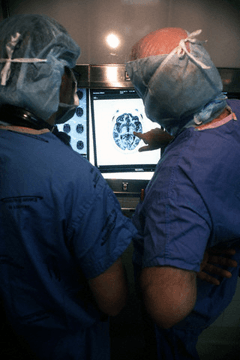 First developed in France in the 1987, Deep Brain Stimulation is a surgical treatment involving the implantation of a medical device called a brain pacemaker, which sends electrical impulses to specific parts of the brain. DBS in select brain regions has provided remarkable therapeutic benefits for otherwise treatment-resistant movement and affective disorders such as Chronic pain, Parkinson's disease, Tremor and Dystonia.
After thorough examination, Doctors first will determine if the patient is a candidate for Deep Brain Stimulation Treatment. If the patient is found to be a right candidate then the doctor will review with you possible results before surgery. In this procedure, the surgeon implants a thin wire lead with four contacts (electrodes) at the tips into a specific area of your brain.
These electrodes are connected by wires to a type of pacemaker device (called an impulse generator, or IPG) implanted under the skin of the chest, below the collarbone. Once activated, the device sends continuous electrical pulses to the target areas in the brain, blocking the impulses that cause tremors ( involuntary movements and can affect the hands, arms, eyes, face, head, vocal cords, trunk, and legs). You control the generator, and you can turn it on or off when you swipe a special magnet over it.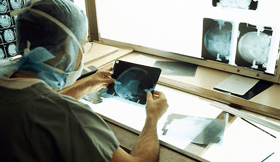 To implant the electrodes, the neuro team fits the patient with a special head frame to keep the head still during the procedure (stereotactic head frame). Then, they use magnetic resonance imaging (MRI) to map your brain and identify the area in the brain where they'll place the electrodes. They anesthetize your scalp before the procedure. During surgery, you'll remain awake to report any side effects and talk to doctors while they place the electrodes. Your responses help your surgeon place the lead in the correct place while minimizing side effects. During surgery, your doctor carefully monitors your brain to help ensure correct electrode placement.
After the electrodes are implanted, you'll receive general anesthesia so that you're unconscious when your surgeon implants the generator in your chest and guides the wire lead from your brain to the generator.
After your surgery, doctors will perform an MRI to confirm correct placement of your device and leads. You may return to your normal activities after several days. The battery life of your generator varies with usage and settings. The battery should last about five years, if it's used 16 hours a day. When the battery needs to be replaced, your surgeon will replace the generator during an outpatient procedure.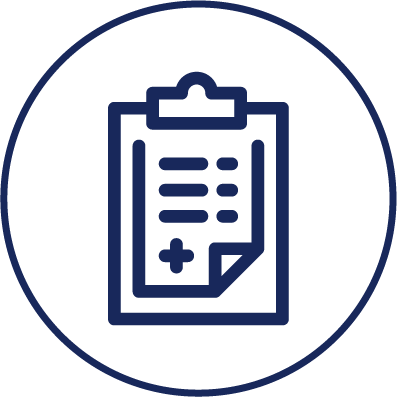 Post a Query
Who can opt for this Treatment
Deep brain stimulation is most commonly used to treat the symptoms of these common neurological conditions: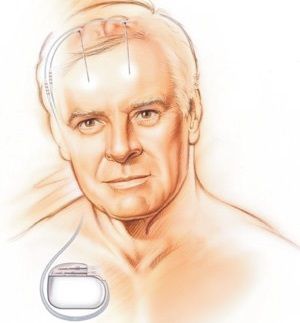 Parkinson's disease Deep brain stimulation was approved by the Food and Drug Administration (FDA) to treat Parkinson's disease in 2002 and is now a standard treatment for this condition. Over time, the symptoms associated with Parkinson's, which include stiffness, slowness, and tremor, become resistant to the medication. The symptoms will fluctuate as the medications provide relief for only a few hours at a time. For these patients, deep brain stimulation can offer steady symptom control for 24 hours per day, to provide better quality of life.
Essential Tremor When patients have inadequate response to medication, deep brain stimulation is an option to effectively treat essential tremor. Research shows that medications often only elicits a response in about half of patients with essential tremor. However, patients who undergo deep brain stimulation can experience approximately 80 percent improvement in hand tremor.
Dystonia Dystonia is a condition in which patients experience involuntary muscle contractions that force parts of the body into abnormal postures. DBS has been FDA approved for this condition under what is known as the Humanitarian Device Exemption (HDE.) This means that DBS surgery can be done on those with debilitating dystonia that does not respond well to medication, and in whom dystonia is the only neurological condition.
Obsessive Compulsive Disorder (OCD) Deep brain stimulation has been approved by the FDA under the Humanitarian Device Exemption (HDE) for the treatment of obsessive compulsive disorder (OCD.)
Is Deep Brain Stimulation Surgery Effective and Safe?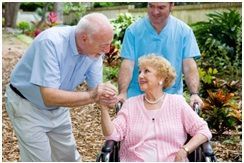 More than 1500 DBS procedures have been done in India, and more than 10,000 worldwide. The results are extremely promising with more than 85% patients of Parkinson's disease obtaining significant relief in rigidity, bradykinesia and resting tremors. There is an overall marked improvement in quality of life, and reduction in medication requirement. There is a minimal 2% risk of complications such as bleeding inside the brain or infection of the implanted material.
Benefits of Deep Brain Stimulation Surgery
The DBS Surgery results in the improvement in disabilities that the patient suffers from Parkinson's disease. The activities of daily living improve, patient can resume his/her work and patients who are severely dependent on others become independent. It improves most of the symptoms of Parkinson's disease patient. Younger patients can even go back to work.

Refer a Patient
How Can You Get a Free Expert Opinion from Top Endovascular Specialists in India ?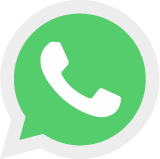 Please Click a picture of your recent medical reports and send to us by WhatsApp, Viber on +91 9899993637 OR

Email to us at [email protected] or [email protected]
Your case would be reviewed by best Specialists in India and an Expert Opinion with Treatment cost Estimate shall be sent to you with in 2 working days.