Leukemia Treatment at SafeMedTrip Affiliated World Class Hospitals in India
GET A FREE COST ESTIMATE FOR YOUR TREATMENT

Why You Should Choose World Class Hospitals in India for​ Cancer ​Treatment ?
Reputed Cancer Cancer Specialists who have global experience and follow latest cancer treatment protocols.
Complete Cancer Care under one roof- Right from cancer screening, early detection, multi-disciplinary treatment to rehabilitation.
Affordable Cancer Treatment Packages.
Latest High-end technology infrastructure like Robotic Surgery System, Brain Suite, Novalis Radiosurgery TX, PET Scan, CyberKnife , Gamma Knife, IMRT and IGRT that help quick diagnosis and recovery.
Best quality Drugs, Medicines and Consumables for Cancer Care are produced in India at lowest cost and exported to World's best hospital. This results in lowest overall cost of world class cancer treatment in India.
Well trained English speaking Doctors, Nurses and Support Staff provide competent and compassionate Cancer care.
What is Leukemia?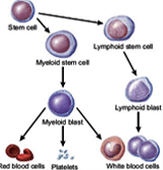 Leukemia is a cancer of the blood cells. It starts in the bone marrow, the soft tissue inside the bones and well known as a blood forming tissue. When you have leukemia, the bone marrow starts to make a lot of abnormal white blood cells, called leukemia cells. They don't do the work of normal white blood cells, they grow faster than normal cells and they don't stop growing when they should but start accumulating and occupying more space.
A risk factor is anything that raises your chance of getting a disease. Risk factors for some types of leukemia include Smoking, tobacco use, being exposed to the large amounts of radiation, being exposed to certain chemicals in the workplace and past chemotherapy or radiation for another cancer.
Symptoms of Leukemia Depend on how Much the Cancer has Grown and may Include: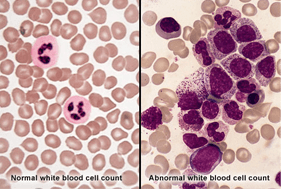 Fevers and night sweats.

Frequent or unusual infections.

Bruising of the skin and bleeding from the gums or rectum.

Bone pain.

Swelling in the belly or pain on the left side of the belly or radiating pain in the left shoulder from a swollen spleen.

Decreased appetite and weight loss because you feel full and don't want to eat.Request a Call Back