Dr. Subodh Shetty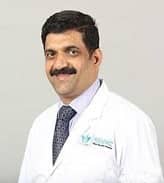 Neurosurgeon
Main Speciality:
Orthopaedic and Joint Replacement Surgeon , Knee Surgery , Hip Surgery
Consultant, MBBS, MS, 15 years of experience New Delhi, India

Send Enquiry
About Doctor:
Dr. Subodh Shetty is a Spine Surgeon, Joint Replacement Surgeon, & Orthopedist with experience of more than 25 years. He has membership with the Indian Orthopaedic Association, Indian Medical Association (IMA), Karnataka Orthopaedic Association, AO Spine, and Association Spine Surgeons of India.
He has attended International Conferences in Japan, Switzerland, and the Netherlands. Dr. Shetty has expertise in the treatment of Paediatric Spine Problems, Traumatic Spine Infections and Hunches Back Problems, spine surgery, Disc Problem, Spine deformities, Heat Therapy Treatment, Diabetic Foot Check-Up, Foot Injury Treatment, High-Risk Wound Care, Lower Extremity Wound Care, Ankle-Brachial Index, Foot Pressure/Vascular Assessment, Neuropathy Assessment, Foot Assessment, and Foot Drop. Dr. Subodh has publications in international as well as national medical journals.
Work Experience of Dr. Subodh Shetty
Senior Registrar, Lilavati Hospital
Consultant, SDM Medical College And Hospital
Specialization:
Joint Replacement Surgery
Physiotherapy for Sports Injury Rehabilitation
Fracture Treatment
Arthritis Management
Congenital Disorders Evaluation / Treatment
Lower Back Pain
Bone Trauma
Osteoporosis Treatment
Joint Pain Treatment
Trauma Surgery
Neck Pain Treatment
Education:
MBBS, 1987, Kasturba Medical College.
MS, 1997, Jawaharlal Nehru Medical College, Belgaum.
Location:
India
Get Expert Opinion from Dr. Subodh Shetty