Dr. Subodh Raju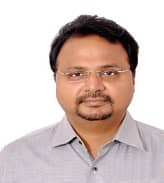 Neurosurgeon
Main Speciality:
Spine Surgeon
Head of Department, FRCS, DNB, MBBS, 15 years of experience Mumbai, India

Send Enquiry
About Doctor:
Dr. Subodh Raju is a Consultant Neurologist and Spine Surgeon practicing successfully for more than 20 years. He holds extensive experience in Brain Tumor Surgery, Pediatric Neurosurgery, Neck & Spine Biopsy, etc.
After completing graduate studies in 1994, he pursued MS in General Surgery from Veer Surendra Sai Institute of Medical Sciences and Research, Sambalpur, Odisha in 1998 followed by M.Ch. in Neurosurgery from AIIMS, New Delhi in 2002.
He is an active member of the Neurological Society of India, Neuroendoscopy Society, Indian Society of Paediatric Neurosurgery, Neurological Surgeons Society of India, Andhra Pradesh Neuroscientists Association, CEREBROVASCULAR SOCIETY OF INDIA, and Neurotrauma Society of India.
He has been honored with various prizes and recognitions.
Specialization:
Brain Tumor Surgery
Aortic Anuerysm Surgery / Endovascular Repair
Spine Surgery
Cerebrovascular Surgery
M.I.S.S & M.I.N.S
PAEDIATRIC NEUROSURGERY
Endoscopic Brain and Spine Surgery
Laminectomy
Neck and Spine Biopsy
Percutaneous Vertebroplasty for Compression Fracture
Kyphoplasty
Petrosal Sinus Sampling
Foot Drop
Carotid Body Tumour Embolization
Head & Neck Tumour Embolization
Spinal and Cerebral Tumor Embolization
Brain Arteriovenous Fistula Embolization
Work Experience of Dr. Subodh Raju
Consultant, Apollo Hospitals, Hyderabad, 2021
Senior Consultant, Paediatric Neurosurgery at Rainbow Childrens Hospitals
Consultant, Neurosurgeon at Image Hospitals
Consultant, Neurosurgeon at Saumya Apollo Hospitals
Education:
MBBS, 1994, Sambalpur University
MS, 1998, General Surgery – Veer Surendra Sai Institute of Medical Sciences and Research, Sambalpur, Odisha
MCh, 2002, Neuro Surgery – All India Institute of Medical Sciences, New Delhi
Location:
India
Get Expert Opinion from Dr. Subodh Raju