Dr Muralidharan Venkatesan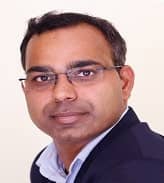 Neurosurgeon
Main Speciality:
Spine Surgeon
Consultant , MBBS, MRCS, FRCS, 15 years of experience in India

Send Enquiry
About Doctor:
Currently associated as Consultant – Spine Surgery with Indian Spinal Injuries Center, New Delhi. One of the leading Spine Surgeons in India.
Performed more than 3000 surgeries over the last 7 years. Attained specialized training in Spine surgery from Seoul, S.Korea.
Expertise's in Spinal Surgeries, Spinal Instrumentation, Spinal Cord Injury and Management of Critically Injured patients.
Interests are Back Pain, Degenerative Spine, Deformity, Spinal Infections, Degenerative Disc Disease, Spondylolisthesis, Lumber Spine Surgery, Minimally Invasive Spine Surgery, Osteoporosis, Spinal Tumor,Spinal Trauma, Spinal Stenosis , Scoliosis Treatment and Cervical SpineSurgery
Work Experience of Dr Muralidharan Venkatesan
Senior Consultant, National Health Service, United Kingdom.
Specialization:
Back Pain Treatment
Neck Pain Treatment
Sciatica Pain Treatment
Disc Prolapse
Herniated Disc
Slipped Disc
Degenerative spinal Disorder
Spondylosis
Spinal stenosis
Spinal Disorders
Spinal Surgery
Microdiscectomy
Endoscopic Spine Surgery
Minimally Invasive Spine Fusion
Minimally Invasive Spine (MIS) Surgery
TLIF
Minimally Access Lateral Lumbar Inter-body Fusion Surgery (OLIF/XLIF)
Spinal Deformity Correction
Education:
MBBS, 2001, Chengalpattu Medical College
MRCS, The Royal College of Surgeons (RCS)
FRCS, Fellow of Royal College of Surgeons of Edinburgh, UK
Location:
India
Get Expert Opinion from Dr Muralidharan Venkatesan