Dr. Rajesh K. Verma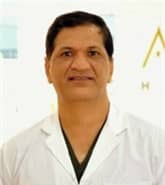 Main Speciality:
Orthopaedic and Joint Replacement Surgeon
Director , MBBS, MS, Fellowship, Fellowship, 22 years of experience
Gurgaon, India

Send Enquiry
About Doctor
Dr. Rajesh K Verma is one of the renowned Orthopedecian and spine surgeon In India. Dr. Rajesh Verma has turned himself into a legendary Traumatologist and has set precedence in treating complex trauma, bone, joint & spine disorders. He has over the years acquired an expert status in spine surgery, joint replacements & pediatric orthopaedics including deformity & limb length discrepancy correction. He has an experience of over 22+ years & has successfully performed over 12,000 surgeries including all types of Spine Surgeries, and Complex Trauma surgeries. Recently Dr Verma & his team has performed a "decompression surgery" by an innovative approach to cure a man suffering of paralysis due to spinal TB.
He is an active member of various renowned organizations such as Indian Orthopedic Association, North American Society of Spine Surgeons, International Society for the advancement of Spine Surgery, AO Spine International, Switzerland, AO Trauma & Arthroscopy Society of India & so on.
Specialization
Orthopedist Minimal Invasive Spine Surgery,
Foot /Ankle reconstructions & management of metabolic bone disorders including Osteoporosis & Rheumatic diseases,
Joint replacements and pediatric orthopedics, including deformity and limb length discrepancy correction,
Pelviacetabular Injuries,
Bone Tumors with limb salvage,
Education and Training
MBBS, PGI Rohtak
MS, PGI, Rohtak
Fellowship, Trauma & Spine Surgery Seoul, South Korea
Fellowship, Denver, USA
Location
India
Get Expert Opinion from Dr. Rajesh K. Verma