Dr.Rahul Kumar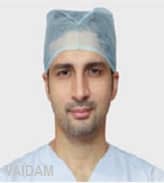 Main Speciality:
Orthopaedic and Joint Replacement Surgeon
Consultant , Fellowship, Fellowship, Fellowship, MS, MBBS, 7 years of experience
Gurgaon, India

Send Enquiry
About Doctor
Dr. Rahul is a consultant in Joint Replacement & Sports Injury with an overall experience of 7 years. He has been trained in Arthroscopic surgeries and management of Sports Injuries in one of eminent and High volume centre of India – Sports Injury Centre, Safdarjang Hospital.
In addition to this, he is also trained in complex multiligamentous knee injuries, knee preservation & cartilage restoration procedure, primary & revision arthroplasty of knee and hip. He has also obtained Fellowship from Prestigious institutes of Germany & London.
He has previously worked in Lotus Hospital Gurgaon, Safdarjung Hospital and ABG Hospital, New Delhi. He is an esteemed member of associations like ROSA (Rajasthan Orthopedic Surgeon Association), IOA (Indian Orthopedic Association), and IAS (Indian Arthroscopic Society).
Specialization
Arthroscopic surgeries of Knee & Shoulder
Complex Multiligamentous knee injuries
Knee preservation & Cartilage restoration procedures
Prevention & Management of Sports Injuries
Primary & Revision Knee Arthroplasty
Primary & Revision Hip Arthroplasty
Education and Training
Fellowship, King's College Hospital , London (U.K.)
Fellowship, Klink, Koing Ludwig Haus, Wurzburg, Germany.
Fellowship, Sports Injury Centre, Safdarjung Hospital,New Delhi.
MS, SMS Medical College Jaipur
MBBS, SMS Medical College Jaipur
Location
India
Get Expert Opinion from Dr.Rahul Kumar