Dr. Puneet Mishra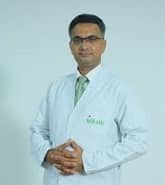 Main Speciality:
Orthopaedic and Joint Replacement Surgeon
Additional Director , MS, MBBS, 18 years of experience,
New Delhi, India

Send Enquiry
About Doctor
Dr. Puneet Mishra is orthopedics and Joint Replacement Surgeon with 18+ years of experience. He has a special interest in complex fractures of Levis and Acetabulum and has treated more than 500 such cases. He is a pioneer in India in Hip Preservation and has successfully used "Prof. Ganz's Safe Surgical dislocation of the hip approach" in various conditions which have given excellent results.
He has expertise in hip replacement, orthopedic trauma Fracture surgeries, revision Hip arthroplasty, knee arthroscopy and arthroplasty. Dr. Mishra is a life member of Indian Orthopedic Association, Delhi Orthopedic Association and AOPAS (Association of Pelvic-Acetabular Surgeons of India).
He has attained fellowship in Hip and Pelvis Reconstruction from the prestigious hospital of Switzerland in 2002 and Endoklinik Fellowship Certification from Hamburg, Germany in 2012. He has received meritorious contributor Award, as Associate Editor, Indian Journal of Orthopedics in 2011 and International Faculty of Excellence Award, Dhaka, Bangladesh 2018.
Specialization
Arthroscopy,
Spinal Therapy,
Hip Resurfacing,
Knee Osteotomy,
Education and Training
MS, 2000, University of Delhi.
MBBS, 1996, University of Delhi.
Location
India
Get Expert Opinion from Dr. Puneet Mishra