Dr. Manoj Padman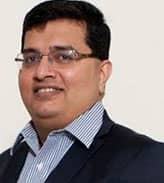 Main Speciality:
Paediatric Orthopedecian
Senior Consultant , MBBS, MS, MSc, 20 years of experience
Gurgaon, India

Send Enquiry
About Doctor
Dr Manoj Padman is a specialist Pediatric Orthopedic Surgeon with more than 20 years of experience in the field of Orthopaedic surgery. One of the best doctor for all orthopedic surgery and treatments for deformities in children. Expertise in managing the entire spectrum of musculoskeletal aliments in children and adolescents.
Deals with all ailments affecting the muscular skeletal system of children and adolescents. Specializes in treatment of children with deformity due to polio, club foot, limb deformites like bow legs, knock knees and other conditions like juvenile rheumatoid arthritis.
Interests are hip pathologies including birth anomalies, post infective and post traumatic sequelae, deformity correction and limb reconstruction.
Specialization
Hip pathologies (congenital, developmental, post infective and post traumatic sequelae)
Neuromuscular pathologies
Deformity correction
Limb reconstruction
Education and Training
MBBS, 1994, JIPMER
MS, 1997, JIPMER
DNB Orth
MSc, 2004, University of Leeds
Location
India
Get Expert Opinion from Dr. Manoj Padman