Dr. Deepak Chaudhary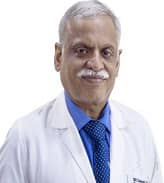 Main Speciality:
Orthopaedic and Joint Replacement Surgeon
Senior Consultant , MS, MBBS, 20 years of experience,
New Delhi, India

Send Enquiry
About Doctor
Dr. Deepak Chaudhary is an internationally acclaimed Orthopaedician with 20+ years of experience. He has so far performed 1100 Arthroplasty Surgeries and under his valuable guidance 12000 Arthroscopic Knee and Shoulder Surgeries have been performed in the Sports Injury Center, Safdarjung Hospital, so far the highest number of such surgeries in an institute in India.
He was the key persona behind the conceptualization, subsequent commissioning and functioning of the Sports Injury Centre that runs on PPP Model and generates huge revenue to the Government. His earnest efforts fetched the Institute Grant and Recognition from the Ministry of Sports and Youth Affair.
ISAKOS, the International Society for Arthroscopy Knee Surgery and Orthopaedic Sports Medicine has recognized the contributions made by him and his team in Arthroscopy, Knee Surgeries and Sports Medicine, selecting the center for training for Arthroscopy, knee surgery and Orthopedic Sports Medicine.
He holds the record of doing highest number of Double Bundle ACL Reconstruction Surgeries, as documented by the Arthrex Sales Head Internationally. His area of interest lies in Arthroscopic Shoulder Surgeries and he has developed some innovative techniques like Complex Rotator Cuff and Revision Bankart Repair Surgeries. He has enabled eminent sports personalities to return to the field after undergoing treatment under his expert care.
He has initiated the beginning of FNB (Arthroscopy and Sports Medicine), and MD (Sports Medicine) Courses, the first of its kind in India. Dr. Chaudhary is honored with the Life Membership of numerous prestigious associations. These are ISAKOS (International Society of Arthroscopy, Knee Surgery, and Orthopaedics Sports Medicine), Indian Orthopaedics Association, Delhi Orthopaedics Association, North Zone Orthopaedics Association, Indian Arthroscopy Society, and Indian Arthroplasty Society. He extensively engages himself in Research works and has collaborated with others in innumerable articles which are published in National and International Journals.
Specialization
Double Bundle ACL Reconstruction Surgeries,
Arthroscopic Shoulder Surgeries,
Complex Rotator Cuff and Revision Bankart Repair Surgeries,
Sports Injuries
Education and Training
MBBS, University of Kashmir.
MS
Location
India
Get Expert Opinion from Dr. Deepak Chaudhary