Dr. Nalini Mahajan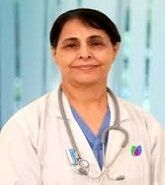 Dr. Nalini Mahajan – IVF Specialist
IVF Specialist
Director, MBBS, MD, 25 years of experience, New Delhi, India

Send Enquiry
About Doctor
With over 20 years of clinical and academic experience in the field of Infertility and Assisted Reproduction, Dr. Nalini Mahajan, is a pioneer in infertility management and advanced ART techniques. Her success with assisting couples to achieve both natural and assisted conception is amongst the highest in India.
Awarded with the President's Gold Medal for standing first in MBBS in Delhi University, Dr. Nalini Mahajan graduated from Lady Hardinge Medical College, Delhi University in 1974. Adjudicated as the best candidate in Medicine and Surgery as well as rewarded with the Pfizer gold medal, she went on to pursue an MD in Obstetrics and Gynaecology from Delhi University and then a Master's in ART from Nottingham University in UK 1994, being the first Indian to be awarded the degree with honours.
She established one of the first IVF centres in Delhi as Mother and Child Hospital in 1995 and established couple of state of the Art IVF centres in Delhi NCR. Under her leadership many centers have achieved national rankings. Her noble initiative to form the Fertility Preservation Society (India) in 2014, to create awareness amongst society and the medical fraternity regarding the fertility needs of cancer survivors, has led to an immense change in the way oncologists address this issue.
Specialization
General obstetrics,
High Risk Obstetrics
Hormonal Regulation of Ovulation and maintainence of Pregnancy,
In Vitro Fertilisation Techniques,
Corrective Surgery for Congenital Deformations of the Female Genital Tract,
Intra Cytoplasmic Sperm Injection and other Complex Fertility Techniques,
Laparoscopic Gynecological Surgery,
Education
MBBS – Lady Hardinge Medical College, New Delhi, 1974
MD – Obstetrics & Gynaecology – University of Delhi, 1979
Experience
Director, NOVA IVI Fertility, New Delhi
Director, Mother & Child Hospital
Director, Milann Fertility Centre
Location
India
Get Expert Opinion from Dr. Nalini Mahajan