Dr. Rahul Chandola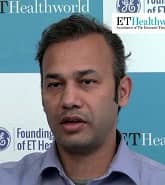 Main Speciality:
Cardiac Surgeon
Senior Consultant , MBBS, MS, MCh, 20 years of experience,
New Delhi, India

Send Enquiry
About Doctor
Dr. Rahul Chandola is a Cardiac Surgeon in Saket, Delhi and has an experience of 20 years in this field. Currently associated as Senior Consultant with the Department of Cardiothoracic Surgery at Max hospitals, New Delhi. Expertise lies in Heart Transplantation & Lung Transplantation and performed more than 100 successful heart transplants.
Interests are Adult and Pediatric – Heart Transplants, VADS and Artificial Heart, Off-pump single as well as double lung transplantations, Bilateral lung transplantations through midline sternotomies, Ex-vivo lung perfusion techniques for donor lung preservation, Exvivo Perfusion for donor's hearts and ECMO. Professional ember of the Canadian Cardio Vascular Society, Asian Cardio Vascular Society, and Indian Association of Cardio-Vascular Society.
Specialization
Adult and Pediatric – Heart Transplants,
VADS and Artificial Heart,
Off-pump single as well as double lung transplantation,
Bilateral lung transplantations through midline sternotomies,
Ex-vivo lung perfusion techniques for donor lung preservation,
Exvivo Perfusion for donor hearts and ECMO
Education and Training
MBBS, 1997, Institute of Medical Sciences, BHU
MS, 2000, Institute of Medical Sciences, BHU
MCh, 2005, GSVM Medical College, Kanpur
Location
India
Get Expert Opinion from Dr. Rahul Chandola