Dr. Gaurav Gupta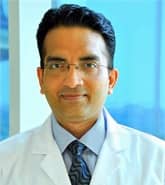 Main Speciality:
Cardiac Surgeon
Senior Consultant , MBBS, MS, MCh, 20 years of experience,
New Delhi, India

Send Enquiry
About Doctor
Dr. Gaurav Gupta is a renowned Cardio Thoracic & Vascular Surgeon with experience of more than 20 years. He has professional membership association with the Indian Association of Cardio-thoracic Surgery (IACTS), Vascular Society of India (VSI), and Indian Society for Organ Transplantation (ISOT).
Expertise's are in Cardiac Catheterisation, Mitral/Heart Valve Replacement, Vascular Surgery, Invasive Cardiac, Cardiac Pacing, Intra – Arterial Thrombolysis, Balloon Mitral Valvuloplasty, and Radial Approach Angiography. Treatments offered by him are Chest and Vascular Trauma & Varicose Veins and Deep Vein Thrombosis.
Specialization
Beating Heart surgery,
Arterial revascularization,
Complex re-operations,
Valve replacement and repairs,
Surgery of Aorta and Arch,
Thoraco-Abdominal Aneurysms,
Aorto- Bifemoral Bypass,
Fem-Pop Bypass,
Distal Bypass Procedures,
Carotid Endarterectomies,
AV Fistula,
Decortication,
Mediastinoscopy and Mediastinal Tumor Excision
Education and Training
MBBS, GS Medical College
MS, 2000, Dr. Sampurnanand Medical College, Jodhpur
MCh, 2004, All India Institute of Medical Sciences, New Delhi.
Location
India
Get Expert Opinion from Dr. Gaurav Gupta