Dr. Prabhat Gupta
Dr. Prabhat Gupta – Surgical Oncologist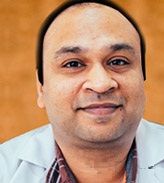 Main Speciality:
Surgical Oncologist
20+ years of experience
Qualifications:
MBBS, MS, MCh

Send Enquiry
About Doctor
Dr. Parbhat Gupta has done his graduation from MAMC (Delhi), Post-graduation from Amritsar Medical College Punjab, (He topped in MS) and M.Ch. from Gujrat Cancer Institute Ahmedabad. He brings with him rich experience in Surgical Oncology from Gujrat Cancer Institute Ahmedabad, Dayanand Medical College Ludhiana and Tata Memorial Hospital, Mumbai. He has performed more than 1000 cancer surgeries, which include 300 Head, and Neck cancer surgeries with 100 flaps i.e. Composite resections, Hemiglossectomies, Maxillactomies, Mandibalactomy etc.
He also has a rich experience in Laparoscopic Cancer Surgeries. Dr. Prabhat is a recipient of several honours and awards has few publications in indexed journals and is affiliated with several prestigious Medical associations and Councils. Awards and Honours Topper in final MS exam in Govt. Medical College Amritsar. Best Poster award in Indian Cancer Congress 2011. Poster was titled Near Total Laryngectomy. Young scientist research award by Gujarat cancer research institute 2012
Specialization
Surgical oncology is the branch of surgery applied to oncology. It focuses on the management or treatment of tumors, especially cancerous tumors through surgery or operation.
Education
MBBS
MS (General Surgery)
M.Ch. (Surgical Oncology)
Work Experience
Senior Consultant
20 years of experience
Location
India
Get Expert Opinion from Dr. Prabhat Gupta