Dr. Jalaj Baxi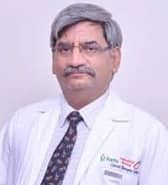 Dr. Jalaj Baxi – MS (General Surgery)
Surgical Oncology MBBS, MS (General Surgery), DNB (Surgery), Fellowship in Surgical Oncology OPD Sessions: Monday to Saturday (9 am to 5 pm)

Send Enquiry
Areas of clinical interest
Onco surgery, Laproscopic Onco surgery
Brief introduction
Dr. Jalaj Baxi is one of the most reputed names for onco surgery. He has 21+ years of experience in this field and has been a guide to many of today`s surgeons. He has 14+ years of extensive teaching experience to undergraduate & postgraduate students has been majorly associated as academic faculty with Manipal College of Medical Sciences in Nepal, Mahatma Gandhi National Institute of Medical Sciences at Jaipur, Gujrat Cancer Research Institute at Ahmedabad, Bombay Hospital in Mumbai. Prior to this he was working as professor in Surgery in Manipal College of Medical Sciences and In-charge of Manipal Cancer Centre at Pokhara, Nepal. He has published & presented many papers nationally & internationally & have contributed as co-author to chapters in the text books.
Qualifications
MBBS RNT Medical College, Udaipur (1986)
Fellowship Surgical Oncology, Gujrat Cancer Research Institute (1998-2001)
MS General Surgery, RNT Medical College, Udaipur (1994)
DNB Surgery, National Board of Examination, New Delhi (1995)
Fellowship and Training
Training in cancer surgery at Bombay Hospital (1997)
Training in head and neck cancer at Memorial Sloan Kettering Cancer Centre, New York, USA (2001)
Diploma in basic and advanced laparoscopic surgery at Gem Endo Surgery Centre, Tamil Nadu ( 2003)
Diploma in advanced laparoscopic oncologic surgery at Japan (2007)
Accomplishments
Life member of Association of Surgeons of India.
Life member of Indian Association of Surgical Oncology.
Member of Indian Association of Surgical Gastroenterologists.
Member of Udaipur Surgical Society.
Appointed as Examiner for University Examinations from Kathmandu University and was Post Graduate Student Guide.
Has authored numerous scientific publications in national and international journals and written chapters in textbooks for postgraduates.
Has been invited as key speaker in various prestigious national and international conferences and seminars.