The mother of one-year-two-month-old twins with joined vertebrate and one anus. The conjoined twins were successfully separated in an Indian hospital.

The babies were born last year. When their peculiar situation became clear to the hospital's officials, the twins were referred, few hours later to the Intensive Care Unit. The parents were told that a total of N600, 00.00 was needed for the surgery.
They appealed to the public for assistance. After some investigations , doctors found out that instead of having a separate vertebral column the twins were joined at the tail end of their vertebrate, forming a 'U' shape. They also share one anus; even as their kidneys had some form of malfunctioning threats.
According to the mother of the conjoined twins, The doctors told us that, with the operation, we stood to lose one of the babies. I was traumatised. I was confused as to which of my babies would die because I had become fond of them. They seemed to be in a very good condition, though. But later on I gave in to fate, hoping that the operation would be done successfully, and let the one that Allah wishes stay.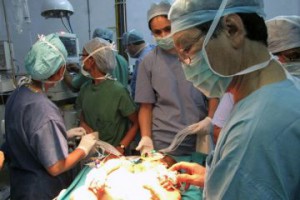 But even at that, the money to conduct the operation was not realised. My husband and I began to lose hope on the survival of our children, until when help came our way through a God-sent philanthropist. Here we are today! My children are separated and they are all doing well. The doctors told us that the girls would soon be discharged after the conclusion of the next surgery on their anus.
According to the excited mother, the surgery lasted for 10 hours and their fear of losing one of them was erased, as both girls were pronounced safe and healthy. "I came here with the feeling that we were going to lose one of the babies, but here we are! God in his infinite mercy, both girls are living.
The surgery was successfully conducted under the Consultant Pediatric Surgery and Pediatric Urology
To know more about Consultant Pediatric Surgery in India please visit this link : https://safemedtrip.com/medical-services/orthopedic-surgeries-treatment-in-india/pediatric-orthopeadics-treatment-in-india.html