What is Leukemia?
Leukemia is a disease that affects blood-forming cells in the body. It is a cancerous condition characterized by an abundance of abnormal white blood cells in the body. Leukemia begins in the bone marrow and spreads to other parts of the body. Both children and adults can develop leukemia. Leukemia can be divided into four different types. It is first classified as acute or chronic. In chronic leukemia, the leukemia cells come from mature, abnormal cells. The cells thrive for too long and accumulate. These type of cells slowly multiply. Acute leukemias, on the other hand, develop from early cells, called "blasts," which are young cells that divide frequently. In acute leukemia cells, they don't stop dividing like their normal counterparts do.
Signs and symptoms of leukemia
There are several signs and symptoms of leukemia that are common to all types. Specific blood tests and bone marrow tests are needed to make a diagnosis. In acute leukemias common symptoms include:

lack of energy
fatigue
anemia
prolonged fever
night sweats
unexplained bruises
prolonged bleeding tendencies
propensity to catch infections etc.
Chemotherapy
: Chemotherapy  may be given as pills or by injection. Chemotherapy drugs interfere with the ability of cancer cells to grow and spread, but they also damage healthy cells. Although healthy cells can recover over time, you may experience side effects from your treatment like nausea, vomiting, loss of appetite, fatigue, hair loss and an increased risk of infection.
Radiation Therapy
: It uses high doses of radiation, such as X-rays, to destroy cancer cells. Radiation is usually given from a machine outside the body that directs radiation to the cancer (external radiation). Radiation is also used to treat acute leukemia that has spread to the brain and spinal cord.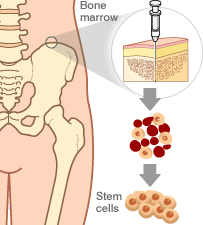 Stem Cell Transplant
: Some people with leukemia receive a stem cell transplant. A stem cell transplant allows you to be treated with high doses of drugs, radiation, or both. The high doses destroy both leukemia cells and normal blood cells in the bone marrow. Before high-dose chemotherapy is given, stem cells will be taken from you or from a donor whose bone marrow is a close match to your own. Soon after the chemotherapy treatment, the stem cells are put back into your blood. Within a few weeks, the new stem cells will start to make blood cells.
Biological Therapy
: Biological therapy uses your immune system to fight cancer or to help control side effects of other cancer treatments. Natural body substances or drugs made from natural body substances are used to boost the body's own defences against illness.
Targeted Therapy
: Targeted therapies use drugs that attack specific types
To know more about Leukemia Cancer Treatment in India please visit this link :
https://safemedtrip.com/medical-services/cancer-treatment-in-india/leukemia-cancer-treatment-in-india.html