Patient Testimonial
Ohuizu Christiana - Nigeria, Orthopedic Surgeries & Joint Replacements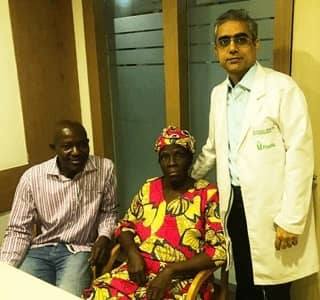 74 Years Old Retired School Principal from Nigeria wins battle with Arthritis to walk again.
Ohuizu Christiana suffered from painful arthritic knees and was unable to walk even a few steps for the last almost five years. Its then she met met Sylvia Azuka her cousin at a family function/ Sylvia had a severe spinal disease which she was able to overcome after she went to India with the help of SafeMedTrip.com
Both my knees would hurt terribly. A small walk in the garden became a tough task for me. Various medicines and ointments did not help. And this used to make me depressed and I decided to visit India and find a permanent solution
Finding the Right Hospital in India
My cousin Sylvia had shared with me the Phone number of Dr Singh the Case Manager at SafeMedTrip and I called her. Then onwards the things moved very fast. In a matter of few days I had various options detailed to me. I chose a surgeon who had more than 20 years of experience and had worked in the UK previously. He promised to replace both my knees with Top class Knee Joint Implants in one surgery sitting at a cost which I found was quite reasonable having compared various options
Getting Medical Visa from Nigeria to visit India
This was something initially my daughter thought was a challenge but thanks to the guidance and support provided by the SafeMedTrip Case Manager, we could easily fill in the forms online and they arranged a formal invite letter from hospital. We finally arrived in India on the morning of 8th November and were received just when we came out of the aircraft by Guest Relations Team and were whisked through the immigration in to a car which took us to the hospital.
Surgery and Recovery
The surgeon was most competent and extremely compassionate. I was too scared of surgery pain but surprisingly there was little pain as the medical team managed me so well. On the fourth day of the surgery I was made to walk and the Physiotherapy for about 8 days after that was done so systematically that I almost forgot that I suffered from a disabling condition for so long.
SafeMedTrip has made it all so easy for me and the best part they helped me save money and did not charge me anything for so much of assistance they provided me …I would recommend SafeMedTrip to anyone looking for advanced medical treatment in India to take help from professional assistance companies like SafeMedTrip. it can save you a lot of effort, precious time and money as well.