Patient Testimonial
Mary Mbatha - Kenya, Cochlear Implant Surgery
Mary Mbatha from Kenya came to India for Successful Cochlear Implant Surgery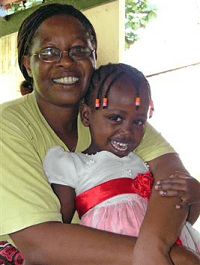 "My child was discovered as hearing deficient just after she was born. We consulted the best doctors in our home country and they were of the opinion that Cochlear Implant surgery was required and it was not available in Kenya. Then I started to search for hospitals outside my country for the treatment. The hospitals in America charged a huge amount for the treatment which was beyond my reach. Then one of my friends told me about India.
I searched on the internet and I found SafeMedTrip website. I filled up the form on the website. I got a call from the case manager and she told me to send the medical reports.
I sent the reports by mail and the case manager got back to me with the opinion doctor and the treatment package. The case manager helped me with the passport, visa and the air tickets which saved a lot of my time.
On the day we arrived in India, we met the surgeon and all our admission formalities were done. I have never seen such caring services in hospitals back home in my country. The next day and a series of tests were carried out and the surgery was planned and was successful.
We stayed in India for almost 8 weeks after the surgery for speech training and follow up. Overall it was a great experience. My Child is doing well and I am extremely grateful to the doctors. I thank everyone who helped me and my child at every step and would strongly recommend SafeMedTrip"