Patient Testimonial
Mary Chinye - Nigeria, Paediatric Cardiac Surgery
Mary Chinye from Nigeria came to India for Successful Paediatric Cardiac Surgery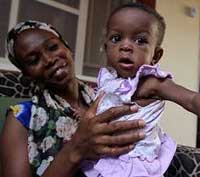 It was a matter of life for my young daughter who was diagnosed with Valve defect at just One year age. Finding safemedtrip.com has been a blessing for us. Every member of staff works as a dedicated member of a team to assist recovery. We were somewhat nervous about coming to India as we have never visited before, but we were never left unsure or uncomfortable about anything from the time we were picked up at the airport.
The hospital in India is overall the very best we have experienced. The level of care is exceptional. The doctors, nurses and medical facilities and the room facilities were equally excellent.
Always we had good communication about what was happening at any time and what would happen next left us feeling in control. A special word of thanks all at SafeMedtrip who worked hard and motivated us to take the decision and we are glad all is well now
Thanks you all and God bless you !