Most Advanced Non Surgical treatment for Varicose Veins, Spider Veins at World Class Hospitals in India
Non Surgical treatment for Varicose Veins
Excellent Outcomes and Affordable Cost is assured.
What Are Varicose Veins?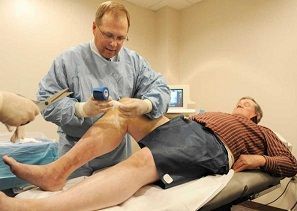 Varicose veins, also known as Spider veins have a bluish-purple or red coloroccur when veins in the legs become enlarged and overfilled with blood. Varicose veins are often painful with swelling, heaviness, and aches in the legs.
What causes Varicose Veins?
Varicose veins occur when your vein isn't functioning properly. Veins have one-way valves that prevent blood from flowing backwards. When these valves fail, blood begins to collect in the vein rather than continuing toward your heart. Varicose veins often affect the legs because they are the farthest from the heart and gravity makes it harder for the blood to flow upward. Some potential causes for varicose veins include chronic heart valve conditions, menopause, standing for long periods of time, pressure on the midsection of the body, especially the abdomen, obesity, which adds weight to the body and increases the pressure on the legs.

Non Surgical treatment for Varicose Veins
Varicose veins are a type of venous disorder that causes abnormalities in the veins, especially on the legs and feet. Though the cause may vary from person to person, the condition leads to swelling or enlarged veins that may be painful or itchy and can eventually lead to bleeding and (non healing) ulcers.
Diagnosis of Varicose Veins
This is done by general examination and Ultrasound Doppler study which can show the exact site of disease in the form of damaged valves & dilatation of veins. Till now various treatment options available for varicose veins were elevating the legs while lying down or sitting, bending legs occasionally when standing for a long period of time, Compression Stockings, Sclerotherapy for short segment disease. Vein Stripping Surgery is a major surgery where the recurrence rate is too high,cause ugly scar in legs and 2-3 weeks needed for recovery.

Request a Call Back
Endovenous Laser Ablation (EVLT) / Radio Frequency Ablation (RFA) – Modern Non-Surgical Treatment for Varicose Veins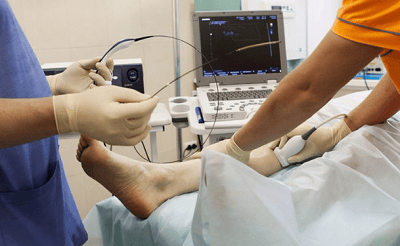 Endovenous Laser Treatment involves the where a fine laser probe is passed inside a vein. This heats the vein and causes it to close up. A fine ELVeS laser fiber is inserted into an introducer sheath and is progressed towards the sapheno-femoral junction. The positioning is confirmed by ultrasound and near infrared laser energy is delivered in short pulses. This causes thermal contraction of the vein wall and application of tumescent local anaesthesia protects the surrounding structures from damage.
The laser treatment is performed along the entire vessel length and the laser energy leads to a complete occlusion of the vein.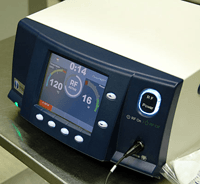 Radiofrequency Ablation (RFA) the latest and most effective, patient friendly and non-surgical treatment for Varicose veins using Multipolar RFA machine. Under color-doppler Ultrasound vision, a radiofrequency catheter is inserted into the abnormal vein and the vessel treated with radio-energy, resulting is closure of the involved vein.
The Interventional Radiologist accesses the abnormal saphenous vein percutaneoulsy through a small cannula in abnormal vein.
Ablation uses a thin, flexible tube called a catheter with tiny electrodes at the tip of the catheter, which collapses the thick varicose veins.
Endovenous Laser Ablation (EVLT) / Radio Frequency Ablation (RFA) – Modern Non-Surgical Treatment for Varicose Veins
It is less risky as compared to surgery.
Needs no general anesthesia.
No Surgical scar on skin.
Done as a Day Care procedure with no overnight hospital stay necessary.
No blood loss or risk of blood transfusion.
The recovery is very fast as compared to traditional surgery.
recurrence rate is very low as compared to conventional surgery.
Normal activities like long distance walking, running, standing can be resumed within 1-2 days.
Sclerotherapy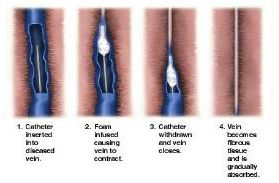 It is a commonly performed non-surgical treatment for varicose and "spider" leg veins in which medicine is injected into the veins to make them shrink. It is safe, proven and effective. Prior to the procedure, you will have an initial consultation to determine if yu are eligible for sclerotherapy. This includes an ultrasound of the veins to evaluate the full extent of the problem causing the spider veins. The larger vein must be treated before sclerotherapy is performed.
If the vein causing the problems is not treated first, oter spider veins will appear after the sclerotherapy is complete. During,sclerotherapy, small injection of irritating solution is injected into the vein, which causes the vein to close. Two or more sessions are usually required to achieve optimal results.
What People Say About Us- Patient Experience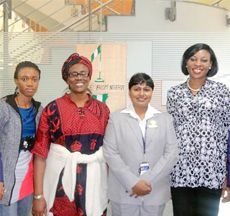 I had so many apprehensions and concerns prior to coming to India for surgery that I needed badly to regain my health. "Thanks for your always prompt responses to my volley of questions and concerns. I could not have managed even a step without your staff's excellent care. I couldn't be happier with the Indian hospitals, surgeon, physicians and their expertise. Everyone is very professional yet compassionate. All staff nurses and doctors are very attentive. My stay during treatment in India was very comfortable
Warm Regards –
Ms. Janet Biuware From Cameroon.

Refer a Patient
Frequently Asked Questions
Once you have decided that you want to get treatment in India you can email us your latest medical reports and accompanying X-Rays, MRI Scans and other relevant medical documents at [email protected] or Call or WhatsApp us on +91-9899993637 for one to one discussion with our executives.
Once we receive your reports, we will get them reviewed by our medical experts and will send you a detailed treatment package consisting of doctor's diagnosis, treatment plan, cost of treatment, duration of stay in hospital and duration of stay in India besides other relevant details.
Once you have confirmed to us that you want to proceed further to get treatment in India, our team will help you with the Indian medical visa assistance and documentation process. We will also help you in arranging for a comfortable local stay for you and your attendant. You don't have to send any money in advance.
Savings can be from 30-50%, depending upon the procedure and the destination. Your treatment will be carried out from only the best hospitals in India that are NABH accredited and have specialists that are recognized globally for their expertise.
From the date you decide on one of the three affordable treatment packages offered to you. It may take 1- 3 weeks to obtain Medical Visa and book flight tickets. We have zero waiting period and you can be received at the Airport on arrival and immediately admitted at hospital and treatment will start.
Its advisable that you should not delay your treatment particularly in case of severe illnesses like Cancer, Heart or Spine etc. Early start of treatment results in quick recovery and lower expense compared to delay of treatment.
The difference in cost package due to the labour and insurance costs of the hospital operating in India, and not by the difference in the quality of treatment.
Each patient is assigned to a SafeMedTrip Patient Case Manager who will take care of every single detail ranging from arrival to send off.
Yes, of course. We will provide you with complete assistance in selecting high-quality hotels near the hospital location that fits your budget.
You will be given a complete profile of the specialist before you proceed for the treatment. On special request, we will be happy to connect you with him through a teleconferencing service facilitated by Skype.
Get the SafeMedTrip Advantage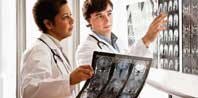 Get Expert Medical Opinion/ Second Opinion – Send us the Medical reports by Email or WhatsApp and we will get you Expert Advice ​​and ​Treatment Cost Estimates​ from Top Specialist at ​Three of India's ​leading hospitals within ​48 hours.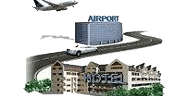 Free Concierge ​Services​ –​ Once you decide to come to India, We will arrange ​Priority Scheduling of Hospital Appointments, Travel & Visa Assistance, Airport Pick up, Economical Hotel Stay, ​Complete ​Local Support​ ​24X7.​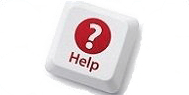 No Obligation – Zero Cost Assistance. We do not collect any service fee from patients. You will directly pay the hospitals after you arrive in India. We ensure Quick, Hassle Free, Affordable Treatment at World Class hospitals in India.
Get Expert Opinion from India's Best Doctors.
WhatsApp Consult Now