Highly Advanced Laparoscopic Treatment for Varicocelectomy at World Class Hospitals in India
What is Varicocele?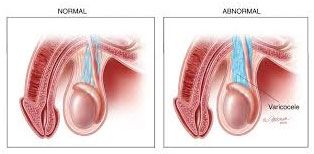 It is an abnormal enlargement of the group of veins located in the scrotum. This plexus of veins drains the testicles. The testicular blood vessels originate in the abdomen and travel down through the inguinal canal within the spermatic cord on their way to the testis. Upward flow of blood in the veins is ensured by small one-way valves that prevent backflow. Defective valves, or compression of the vein by a nearby structure, can cause dilatation of the testicular veins near the testis, leading to the formation of a varicocele. Collection of blood within the veins results in increased temperature within the testes causing decrease in efficiency of the sperms produced. This results in infertility or subfertility in males. The sperm count and motility is reduced and their shape is also altered. It usually occurs in the left testes, but may be present on both sides.
Varicocelectomy is by far the most commonly performed operation for the treatment of male infertility. Varicocele occurs when the network of veins that leave the testis (pampiniform plexus) become elongated and enlarged. The valves within the pampiniform plexus when they work properly only allow the blood to flow away from the testicle – if there is something wrong with them, blood builds up. Approximately 15% of men have a varicocele. A varicocele develops over time. The network of veins often appear visibly blue through the scrotum and feel like "a bag of worms". When the patient lies down symptoms are less evident. When both the testicles are affected it is called bilateral varicocele else unilateral vericocele if only the left or right one is affected. Varicose veins people get in their legs are similar to a varicocele.
It is one of the most common causes of male infertility. Varicoceles can lower a man's sperm count and undermine the quality of his sperm. In some cases, the testicles may shrink. The incidence of varicocele, investigated for infertility is approximately 40%. In the last few years, with the introduction of minimal invasive techniques, varicocelectomy has been performed successfully.
Laparoscopic varicocelectomy is a safe, effective and minimally invasive technique. In addition to its better cosmetic results and its advantage in case of bilateral disease, it allows an excellent exposure and control of the affected vessel.