Laproscopic Urology – Benefits, Procedures & Treatment from Best & World Class Hospitals in India
The term urology refers to the genitourinary tract (body organs that deal with urine formation, evacuation and reproduction) in both males and females. In females this field is majorly covered by gynecologists and obstetricians and in males there are specialist urologists who deal with these problems.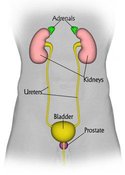 Earlier due to lack of technology and sophisticated instruments, most of the surgeries required big incisions that involved cutting of large muscles, lot of blood loss, longer recovery period and thus a longer hospital stay. Now with the advent of new technology, minimally invasive surgical procedures have become more prevalent and since they involve a shorter recovery period and minimum complications, they are preferred by patients and doctors.
Minimally invasive surgery is also known as keyhole surgery and is carried out with the help of a special instrument known as laparoscope. This instrument is a fiber optic tube which has light and camera at its tip. This camera when inserted inside the body cavity shows the actual condition of the tissues inside and these pictures are projected on the computer screen. The surgeon is able to see the actual picture and decide his action plan. Micro sized surgical instruments are inserted through small holes made in the abdomen and manipulated by the surgeons to complete the procedure with minimum damage to surrounding tissues. The area is expanded by introducing an inert gas which gives the surgeons better visibility. Since the muscles cutting is less and blood loss is minimum, the postoperative complications and recovery time is less. The surgery must be carried out by specialist urologists who are trained and experienced in laparoscopic surgeries. Also these surgeries require longer time to be carried out.