Highly Advanced Treatment for Bladder Cancer at SafeMedTrip Affiliated World Class Hospitals in India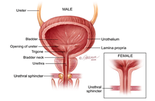 Bladder Cancer refers to the abnormal increase in the size and number of cells of the bladder. It can be restricted to the inner most layer of the bladder or can involve all the layers of bladder and spread to nearby organs like reproductive system, intestines, lungs, bones etc.
A urinary bladder is a hollow reservoir where urine is collected before it is expelled out through the urethra. The innermost layer of the bladder is called the endothelium or the urothelium. After that, is a layer of loose connective tissue called as lamina propria. The smooth muscle of the bladder lies outside the lamina propria. The bladder muscle is surrounded by a layer of fat.
Most of the times the cancer is limited to the urothelium and very rarely it invades the lamina propria and the muscular layer.
A person with bladder cancer may complain of blood in urine, pain during urination and increased frequency of urination. A CT scan of the bladder and urine analysis can help to diagnose and confirm the condition.
Treatment of the bladder cancer depends on the stage of cancer. If it is diagnosed recently and is superficial, then chemotherapy, radiotherapy, laser or tumor resection techniques are used.
In case the bladder cancer is large, invasive or at multiple places in the bladder wall, then partial or complete cystectomy may be the only option available. This can be combined with postoperative radiotherapy and chemotherapy to restrict the spread of cancer to surrounding organs or limit its recurrence.
Request a Call Back