Advanced Treatments for Prostate Cancer – Chemo, Radiations, Cyberknife at World Class Hospitals in India
Enlarged Prostate or Benign Prostatic Hyperplasia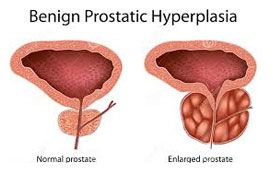 Benign Prostatic Hyperplasia is non-cancerous enlargement of the prostate gland. It is often used interchangeably though incorrectly with another term – Benign Prostate Hypertrophy.
Prostate, a walnut shaped gland is a part of male reproductive system and is situated in front of the rectum and below the bladder. It surrounds the urethra.
This condition commonly affects the elderly male population above the age of 60 years and involves an increase in the number of cells of the prostate gland leading to its enlargement. The enlarged prostate gland compresses the urethra leading to interruption of normal urine flow leading to urinary retention.