Centre of Excellence for Total Hip Replacement (THR) Surgery in India.
Most Affordable Packages for Hip Replacement (THR) Surgery
Why India has Become Tthe Ultimate Destination For Thousands of People Across The World who are Seeking Highest Quality Hip Surgery?
Top Class Orthopedic Surgeons, some of whom have an experience of performing more than 10000 joint replacement surgeries.
World Class Hospitals having the latest technology like Computer Navigation, 64 slice CT, High end MRI, Neuro-navigation surgical systems, Neuro-physiology etc.
Cost of Surgery just 1/6th of cost in USA, UK or Europe with finest quality implants, prosthesis and consumables imported from Leading International Companies.
Specialized Physiotherapy and Rehabilitation services help the patient to return back to normal activity quickly after the surgery.Request a Call Back
Most Affordable Packages for Hip Replacement (THR) Surgery at World Class Hospitals in India.
The currency devaluation and cost inflation has made the present situation for Orthopedic patients who urgently need treatment very difficult. But you can now Save up to 40 Percent on Hip Replacement by availing of our following Hip Replacement (THR) packages.
Total Hip Replacement – 5700 US Dollars
The above cost includes 5 days stay in a sharing room at World Class Hospital in India in a sharing room at the hospital where an attendant can also stay with the patient, Pre-surgery medical tests and consultation, surgeon fee, nursing care, medicines and consumables food for the patient and attendant and airport transfers.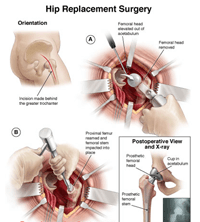 Total Hip Replacement (THR) is most suited and one of the most common surgical procedures for people with very late stage degenerative hip disease. Some of the important benefits of a THR are, marked reduction in pain and improvement in sleep, most people regain range of motion, physical ability, and quality of life.
A Total Hip Replacement (THR) is a surgical procedure whereby the diseased cartilage and bone of the hip joint is surgically replaced with artificial materials. It involves surgical removal of the diseased ball (the head of the thigh bone) and socket (acetabulum of the pelvis) and replacing them with a metal ball and stem inserted into the femur (thigh) bone and an artificial plastic cup socket.
The metallic artificial ball and stem are referred to as the 'implant' or the 'prosthesis'. Upon inserting the prosthesis into the central core of the femur,it is fixed with a bony cement.
Save Your Precious Money in These Tough Times.
Please note the above special price offer is a limited period offer and if you have been advised Hip surgery, please avail this offer before it closes.
Advanced Computer Guided Navigation for Flawless Joint Replacement Surgery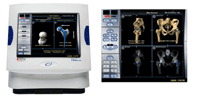 It is a set of methods, that use computer technology for pre-surgical planning, and for guiding or performing surgical interventions. The computer guides the surgeon in precisely planning the exact amount and angle of bone to be removed during surgery.
Advantages of CAS (Computer Aided Surgery for Hip Joints) when used in Minimally Invasive Joint Replacement Surgery: –
Helps in navigation and route planning
Longer life of components
Reduced complications like Dislocation, Impingement etc
Decreased blood loss
Decreased hospital stay
Helps in making Smaller incision
Less pain after surgery
Short hospital stay
Early return to work
Less complications
Success Story of a Gymnast After Hip Replacement Surgery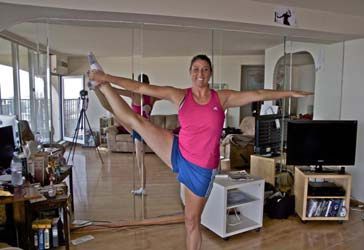 "I just wanted to let you know how things are going with my new hip. I've been discharged from PT and have started seeing a personal trainer. Both my PT and trainer are amazed at what I am able to do after my hip replacement in India. I also am thrilled.
I am stronger than I was before and twice as determined to keep things going the right direction! I sent along a few pictures…don't worry, none of this is beyond my ability and none of it causes any pain‐if it did, I wouldn't be doing it! I'm biking,swimming, using the elliptical machine, and about 2 times a week doing a short run on the treadmill‐I hate running so I won't be pursuing any silly marathon goals or anything.
When I find out if I can hang out upside‐down, I'll send a pic of that too!
THANK YOU SO VERY MUCH FOR GIVING ME MY LIFE BACK AND THEN SOME!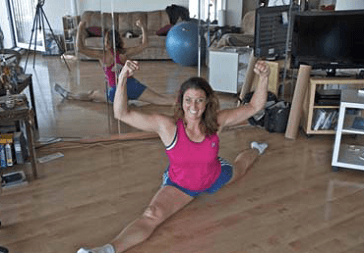 Please tell everyone on your staff how amazing I feel and grateful I am for having decided to come to you with my problem! Also if you wouldn't mind, could you please tell the nurses up on the 11th floor I think?
How wonderful they were and that I'm doing well.
Feel free to inform anyone you think would like to know how I doing that things are fantastic and I am happy as can be! Thanks and will keep you updated on my progress!

Anna, From USA – Hip Replacement Surgery
How Can You Get a Free Expert Opinion from Top Orthopedic Specialists in India ?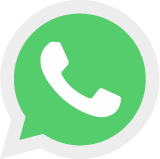 Please Click a picture of your recent medical reports and send to us by WhatsApp, Viber on +91 9899993637 OR

Email to us at [email protected] or [email protected]
Your case would be reviewed by best Specialists in India and an Expert Opinion with Treatment cost Estimate shall be sent to you with in 2 working days.