Fibroids – Introduction, Symptoms, Causes & Treatment from Best Hospitals & Top Doctors in India
Advanced fibroids and fertility treatment in India

What are Uterine Fibroids?
Fibroids are Tumors that arise within the muscle of the uterus forming round masses. Some women have single fibroids as large as a football, others have multiple (up to 20 or more) which vary in size from a peanut to golf balls and larger.
Fibroids are named according to their position in relation to the uterine muscle and cavity.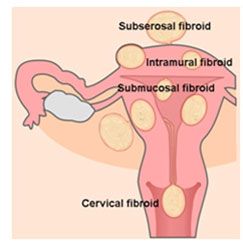 Intramural Fibroids

are located within the wall of the uterus and are the most common type; unless large, they may be asymptomatic. It may cause heavy bleeding with clots. With time, intramural fibroids may expand inwards, causing distortion and elongation of the uterine cavity.

Subserosal Fibroids

are located on surface of the uterus and can become very large. They can cause pressure over bladder and rectum producing urgent urination and constipation with back pain.

Submucosal Fibroids

are located in the muscle beneath the endometrium of the uterus and distort the uterine cavity; even small lesion in this location may lead to bleeding and infertility.

Cervical Fibroids

are located in the wall of the cervix (neck of the uterus).
Diagnosis
Fibroids are usually diagnosed during a gynecologic examination. The presence of fibroids is most often confirmed by a lower abdomen ultrasound. Fibroids can also be confirmed using MRI (magnetic resonance imaging). These imaging techniques serve as a baseline examination for follow-up after uterine fibroid embolization (UFE).
What Problems do Fibroids Cause?
No Symptoms : most fibroids up to the size of an orange (12 weeks pregnancy) cause any symptoms. Their mere presence is not a reason to treat them.
Submucus : They protrude into the uterine cavity and cause menstrual cramps, heavy periods, infertility and repeated miscarriages. The diagnosis is often missed as the uterus is not enlarged and unnecessary hysterectomies have been performed for these. The diagnosis is made by hysterosonography or hysteroscopy.
Intramural : These fibroids are within the muscle of the uterus and can be very large. Because they enlarge the cavity of the uterus they can also cause heavy periods. The most common problem is PRESSURE symptoms on the bladder and rectum.
Subserous : These are external to the uterine muscle and are connected by a thin stalk. They are the least likely to be symptomatic and rarely need removal. TORSION (twisting) is a very rare complication.
Degeneration : Rarely there is liquifaction and bleeding within the center causing pain and fever. Infection may also occur. The most common occurrence is during pregnancy. Treatment is never surgery but conservative with fluids, pain and antibiotics.Request a Call Back
Fibroids, Infertility and Miscarriage:
1) Usually, the submucus fibroids cause repeated miscarriages. 2) Large intramural fibroids may be the cause of longstanding infertility if all other causes have been excluded.
Laparoscopic (Minimally Invasive) Fibroids Treatment – Uterine Fibroids Surgery at World Class Hospitals in India
Surgical Treatment :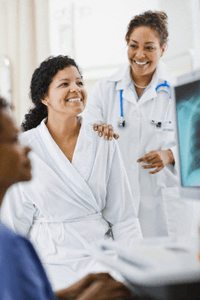 1) The treatment for removing the fibroids from the uterine muscle is known as MYOMECTOMY. 2) It is a specialized operation where the uterus is preserved for future fertility and only fibroids are removed. 3) This operation is traditionally done through a LAPAROTOMY via a 'bikini' or 'up and down' incision. 4) When the fibroids are less than 5 and less than 18 weeks size LAPAROSCOPIC myomectomy can be performed.

Refer a Patient
Laparoscopic Myomectomy (Keyhole, Minimally Invasive procedure to remove fibroids)
Myomectomy is the most suitable surgery option for women who have fibroids but wish to retain their uterus.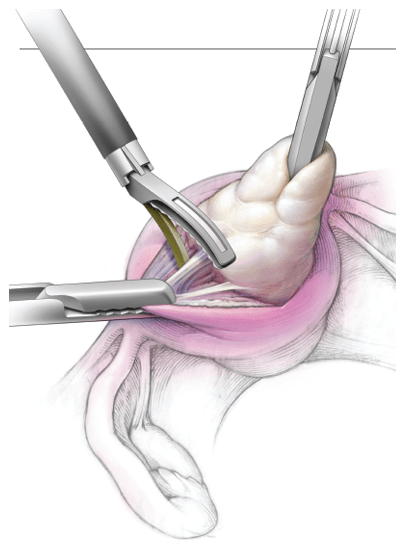 Laparoscopic Myomectomy :
The advantage of this is that patients can go home the same or next day and be back to work in 1-2 weeks. We use laser, harmonic scalpel, knife or electro surgery to remove the fibroids. The skill of the surgeon is paramount to results.
Minilap Myomectomy :
This is another technique pioneered at our center where large multiple (up to 24 weeks) can be removed through a 2-inch bikini incision. Patients can go home the next day after surgery.
Hysteroscopic Myomectomy :
Submucus fibroids are removed by inserting a hysteroscope (small camera passed through the Vagina) and an electrical loop is used to remove the protruding part. This is rapid and effective surgery without the need of laparoscopy. Estrogen is used after surgery to promote uterine lining re growth.
Total Laparoscopic Hysterectomy :
When the family is complete and patient has a symptomatic fibroid, the whole Uterus is removed via only four small holes in the tummy using laparoscopic technique.
Laparoscopic Myomectomy has many advantages over the abdominal (open) approach :-
You can get several benefits from the expertise of SafeMedTrip which has helped a large number of patients from all around the world to get high quality medical treatment in India at best value.
Minimal Pain.
Minimal Blood Loss.
Early Post Operative Recovery.
No Scar.
Faster Recovery.
A shorter hospital stay.
Decreased Adhesion formation.
Better chances of post surgery pregnancy.
What People Say About Us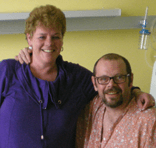 "I can honestly say that I can't remember ever been taken care of by so many nice, kind, and caring people. I'm sure that many people will find it to be a big decision as I did to come to a different country not knowing anyone and worrying about the language barrier, and being so far from home.
Well let me reassure you that was not a problem. They speak good English and if there was ever a time when I had a small problem there was always someone there to help. As far as feeling homesick I felt that I had met many new friends. We traded many stories between us.
My husband came with me and we had a very large room and he had his own bed, TV, ice box, and a computer to our use to be able to keep in contact with our family. The doctor was very explanatory of my Fibroids. After almost a year of pain and discomfort I am finally close to being my old self."
Warm Regards –

Sherber From USA – Minimal Invasive Fibroids Treatment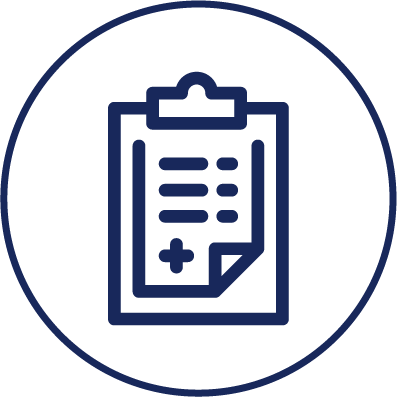 Post a Query
How Can You Get a Free Expert Opinion from Top Laparoscopic Specialists in India ?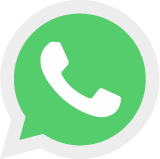 Please Click a picture of your recent medical reports and send to us by WhatsApp, Viber on +91 9899993637 OR

Email to us at [email protected] or [email protected]
Your case would be reviewed by best Specialists in India and an Expert Opinion with Treatment cost Estimate shall be sent to you with in 2 working days.